The IMF's Take on Canada's Housing Dilemma Is So Absurd I Can't Even
The blunt tool isn't the only one in the box.
by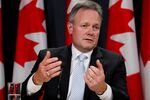 Nothing spells drama like frothy real estate in an economy that's dealing with the flip side of the commodity supercycle.
Here's how Cheng Hoon Lim, assistant director in the International Monetary Fund's Western Hemisphere Department, framed that drama in a new blog post:
Canada's housing market is sizzling hot and the Bank of Canada has a monetary policy dilemma: increase interest rates to cool the housing market would hurt borrowers and the economy; keep interest rates low adds fuel to the borrowing that led to the rise in housing prices and in household debt. What to do?
The problem: There is no dilemma here. The key flaw in this analysis is presenting this so-called problem for Canadian monetary policymakers as a binary choice dictated by the level of the policy rate.
While the Bank of Canada is in charge of formulating monetary policy, its leadership also is one of the parties responsible for crafting macroprudential policy, loosely defined as measures designed to improve the stability of the financial system, often by restricting the supply of and/or demand for credit in a certain segment of the economy. Given Lim's background in assessing the merits of macroprudential measures, the absence of this subject in her blog post appears to be a conscious (though very material) omission.
The central bank's governor, Stephen Poloz, has indicated that risks to financial stability (namely, household imbalances) have not been a constraint on monetary policy decisions during his time at the helm. It's difficult to imagine a scenario in which financial imbalances would force his hand now.
Senior Deputy Governor Carolyn Wilkins has co-authored a paper indicating that monetary policymakers should take a "do no harm" approach on grounds that a central bank can make a situation in which there are financial vulnerabilities worse "by effecting a tightening on the economy simultaneously with the bubble bursting."
Policy rates are a particularly blunt way to bring about a slowing of activity in one part of the economy; macroprudential measures are much better suited to address sector-specific imbalances.
Moreover, macroprudential policy could be tailored to tighten only certain areas of the nation's housing market. For instance, rather than raise down-payment requirements, authorities could reintroduce the regional mortgage insurance cap, as Ben Rabidoux of North Cove Advisors Inc. has long advocated.
What makes the framing of this blog post particularly puzzling is that Canada has employed many rounds of macroprudential measures in the wake of the financial crisis—most of which were evaluated in an IMF working paper written by Ivo Krznar and James Morsink in May 2014.
"We find that the Canadian authorities have used their exceptional power to set mortgage insurance rules to dampen the housing boom," the pair wrote. "Specifically, the reductions in maximum loan-to-value ratios for first-time buyers and refinancing in 2010, 2011, and 2012 have curbed mortgage credit growth and moderated the surge in house price[s]."
Lim's general conclusion—that the potential benefits of intervening to cool a housing bubble by raising the policy rate are generally outweighed by the costs of slowing an economy in which there is still a degree of slack—is fully in line with the Bank of Canada's stance on this file. The Bank of Canada has made it clear that pulling a Riksbank, so to speak, is not on its to-do list.
Still, the role played by Canadian monetary policymakers in fashioning macroprudential policy means that doing nothing isn't always the appropriate response when dealing with financial vulnerabilities.
Before it's here, it's on the Bloomberg Terminal.
LEARN MORE