Marriott Wins Starwood Hotels Support With Improved Takeover Offer
by and
Marriott boosts cash portion to $21 a share, plus 0.80 stock

Investors await possible new bid from rival Anbang group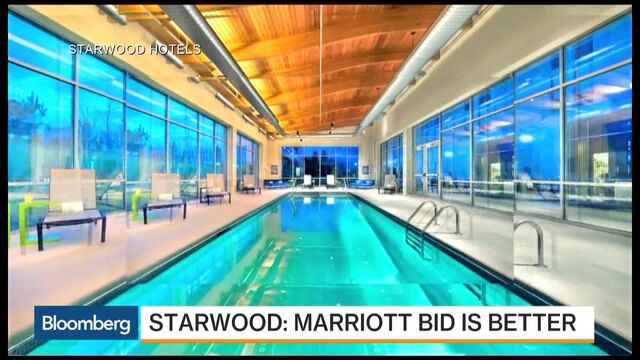 Starwood Hotels & Resorts Worldwide Inc. accepted an improved takeover offer from Marriott International Inc. valued at $13.6 billion, proceeding with plans to form the world's largest hotel operator after investors led by China's Anbang Insurance Group Co. sought to thwart the deal.
Under the terms of the new offer, Starwood shareholders will receive $21 in cash and 0.80 share of Marriott common stock for each Starwood share, according to a statement on Monday. It values the company at $79.53 a share, based on Marriott's closing price Friday, compared with a cash bid of $78 a share, or about $13.2 billion, from the Anbang-led group.
Starwood shares jumped as investors weighed the possibility of a new proposal from the Anbang group. The Chinese-led investors earlier this month made a surprise bid for the owner of brands such as Sheraton, Westin and St. Regis, disrupting a merger deal with Marriott that had been under way since November.
Starwood "has found itself in the middle of a bidding war," Tim Craighead, a research director at Bloomberg Intelligence, said in a report. "A Marriott-Starwood combination would create a diversified, asset-light lodging behemoth focused on expanding its base of fees and managed and franchised hotels. A takeover by Anbang Insurance may cloud the long-term growth picture."
Under the Marriott offer, Starwood shareholders would also get Interval Leisure Group stock from a previously announced spinoff of its vacation ownership business, Vistana Signature Experiences, and subsequent merger with ILG. The amended agreement and the ILG transaction had a combined value of $85.36 a share of Starwood stock, based on Friday's price.
Starwood shares rose 4 percent to $83.81 at 11:43 a.m. New York time. Marriott slipped 1.2 percent to $72.29.
Cash Portion
Marriott's new offer significantly increases the cash portion of the deal. The previous bid was $2 a share in cash and the rest stock. The latest plan also boosts the termination fee for the takeover to $450 million from $400 million.
A combination with Marriott would create the world's largest hotel company, with about 30 brands, giving it more leverage in negotiating commissions with travel agents, a larger frequent-guest program and cost savings. Marriott said in the statement it expects to save about $250 million a year with the merger. The cost savings estimate increased by $50 million a year from the initial one made in November.
Starwood shareholders will own about 34 percent of the combined company's common stock after the merger is completed, based on current shares outstanding.
"We're confident" of achieving cost savings of about $250 million a year through the merger, Marriott President and Chief Executive Officer Arne Sorenson said on a conference call Monday. "It should be obvious" that Marriott's new bid offers "compelling" value to Starwood shareholders, he said.
Anbang Push
An Anbang representative declined to comment. The Beijing-based insurance company, which is working with private equity firm J.C. Flowers & Co. and Chinese investment firm Primavera Capital on the Starwood bid, has been making a push into U.S. real estate. Anbang last year purchased New York's Waldorf Astoria hotel for $1.95 billion, and it has an agreement with Blackstone Group LP to acquire Strategic Hotels & Resorts, an owner of 16 luxury properties.
David Loeb, an analyst with Robert W. Baird & Co., said he expected the Anbang-led investors to increase their offer.
"We have a positive view of the increased cash component and Marriott's willingness to lever up to get this deal across the finish line," he said in a report.
Sorenson, when asked on the call about the possibility of another counteroffer, said "We are not going to negotiate in public."
Sorenson, 57, was speaking from Cuba, where he was traveling with President Barack Obama's delegation on a historic tour. Marriott said yesterday it received government approval to develop hotel operations in Cuba following the normalization of relations between the two countries. Starwood said over the weekend that it would manage three hotels in Cuba.
Starwood is being advised by Lazard Ltd. and Citigroup Inc. The Anbang-led group is working with PJT Partners Inc., according to people with knowledge of the matter.
Before it's here, it's on the Bloomberg Terminal.
LEARN MORE