U.S. Stocks Close Little Changed at 2016 High Amid 5-Week Rally
by
Dow average rises a seventh day, the most since October

Deal activity, gains in drugmakers help nudge equities higher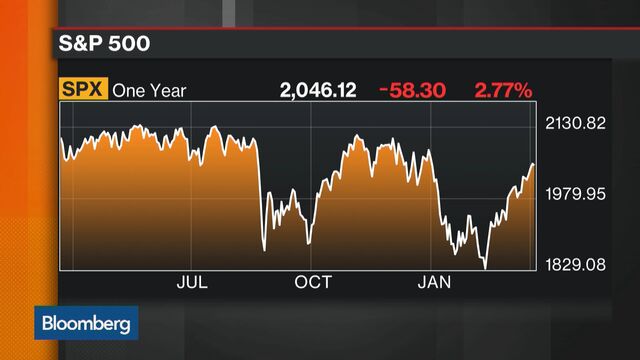 U.S. stocks edged higher, with the Dow Jones Industrial Average extending its longest winning streak in five months, while investors assessed a rally that turned equities positive for the year.
Commodity producers slipped and banks were little changed after bolstering the rebound from the worst start to a year ever. Deal activity helped buoy shares as Valspar Corp. surged 23 percent after Sherwin-Williams Co. agreed to buy the company for about $9.3 billion. Starwood Hotels & Resorts Worldwide Inc. rallied 4.5 percent after accepting an improved bid from Marriott International Inc. Valeant Pharmaceuticals International Inc. added 7.4 percent after a board and management shakeup.
The Standard & Poor's 500 Index rose 0.1 percent to 2,051.60 at 4 p.m. in New York, the highest since Dec. 30 after erasing losses for the year on Friday. The Dow added 21.57 points, or 0.1 percent, to 17,623.87, rising for a seventh consecutive session. The Nasdaq Composite Index increased 0.3 percent, boosted by health-care companies for a second day. About 6.2 billion shares traded hands on U.S. exchanges, the lowest this year and 29 percent below the 2016 average.
"Markets have had a pretty tremendous month," said Michael James, managing director of equity trading at Wedbush Securities Inc. in Los Angeles. "We need to see a little bit of consolidation. Even with all that heavy lifting we've had, all it's done is gotten to flat on the year. I would expect the market's going to take a breather and it should."

The S&P 500 staged one of the biggest turnarounds in history amid rallying crude prices and optimism that monetary policy will continue to support global growth. The gauge last week erased a loss that had reached as much as 11 percent, spurred by a slower pace of rate increases signaled by the Federal Reserve. Equities are heading for the first monthly increase in four, after worries over China's slowdown and routs in oil and banks dragged them to their lowest levels since 2014.
The Chicago Board Options Exchange Volatility Index slipped 1.6 percent Monday to 13.79, a seven-month low after erasing a 5 percent climb. The measure of market turbulence known as the VIX dropped 15 percent last week to add to the longest stretch of weekly declines in four years.
Policy makers' tempered outlook for rate increases, due in part to slower global growth, has knocked down traders' expectations as reflected in futures prices. Odds for a June boost are nearly 44 percent, compared with about 54 percent before last week's Fed statement. Officials have hammered home the message that the path for rates depends on progress in the economy. A report today showed sales of previously owned homes dropped more than forecast in February after reaching the second-highest level since 2007.
Fed Speakers
Fed Bank of San Francisco President John Williams said in an interview that April or June have the potential for a move, adding that the central bank would be raising borrowing costs sooner if it weren't for global factors. Atlanta Fed President Dennis Lockhart echoed that sentiment, saying the economy is strong enough to weather another rate increase as early as next month.
"We've had a fairly significant decline followed by a significant rally, but if you look at the underlying fundamentals of equity markets and you think about valuation, economic data and policy data, the reality is not a lot has changed," said Lowell Yura, head of multi-asset solutions for BMO Global Asset Management in Chicago, which oversees $225 billion.
Six of the S&P 500's 10 main industries increased, with phone stocks adding 0.6 percent, while health-care and technology gained more than 0.3 percent. Consumer staples and industrial shares edged higher. Energy and and raw-materials companies lost 0.5 percent.
Energy stocks fell after three straight days of gains, even as crude oil rose. Chevron Corp. dropped 1.3 percent. Cabot Oil & Gas Corp. and Oneok Inc. declined at least 3.6 percent, while Range Resources Corp. sank 3 percent after an analyst at Macquarie Capital USA Inc. downgraded the stock to neutral from outperform.
Materials Retreat
Sherwin-Williams slid 5.3 percent, the most since July, after its deal to buy Valspar to become the world's biggest coatings maker. Declines of at least 1.4 percent for Alcoa Inc. and LyondellBassell Industries NV also helped drag down a group of raw-materials companies. International Paper Co. rose 1.3 percent to the highest since November, while WestRock Co. extended a rally to four days, rising 8.4 percent during the period.
An S&P gauge of homebuilders fell 1 percent following weaker-than-forecast sales of existing homes last month. PulteGroup Inc. and Meritage Homes Corp. lost more than 1.8 percent. A report on February new-home sales is set for Wednesday, with economists surveyed by Bloomberg projecting a 3.2 percent increase from the prior month.
Health-care companies rose for a second day to a one-week high, led by an 8 percent gain for Mallinckrodt Plc and a 3.3 percent rally in Illumina Inc. The management shakeup at Valeant helped improve sentiment on drug developers, with the Nasdaq Biotechnology Index adding 1.9 percent. Endo International Plc slumped 3.4 percent to a three-year low after the company said it is evaluating options of potential generic products.
Industrial shares got a boost as Boeing Co. added 1.4 percent to its longest winning streak in 14 months, rising for a ninth consecutive day. The shares are up 25 percent since reaching a 2 1/2 year low last month. The stock had its biggest drop in more than 14 years on Jan. 27 following a disappointing earnings outlook.
Apple, Intel
Apple Inc. closed little changed after wiping out a 1.6 percent climb. The company unveiled a new, smaller iPhone as it seeks to jump-start sales of its flagship product by enticing more users to upgrade, especially in high-growth markets such as China and India. Intel Corp. lost 1 percent after Sanford C. Bernstein & Co. Inc. downgraded the shares to the equivalent of sell from neutral.
Gains of more than 2.4 percent in PayPal Holdings Inc. and EBay Inc. offset Intel's retreat to help lift tech companies. Micron Technology Inc. and Qualcomm Inc. increased at least 1.2 percent.
Nike Inc. climbed 2.8 percent, rising for the seventh time in eight sessions before its quarterly results. Competitor Under Armour Inc. added 1.5 percent. Nike and Starwood Hotels were the strongest performers among consumer discretionary shares. Wyndham Worldwide Corp. lost 4.6 percent, while Staples Inc. lost 3.1 percent to lead the laggards.
Among other shares moving on corporate news, IHS Inc. rallied 10 percent, the most in seven years after the data analysis provider agreed to acquire London-based Markit Ltd. to bulk up in financial services.
Before it's here, it's on the Bloomberg Terminal.
LEARN MORE