North Korea Fires Short-Range Projectiles Into Water, South Says
by
Projectiles flew 200 kilometers before hitting eastern waters

North Korea's ballistic missile launches drew UN condemnation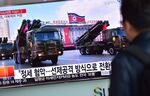 North Korea fired five short-range projectiles into the waters off its east coast facing Japan, days after the United Nations Security Council condemned it for ballistic missile launches.
The unidentified projectiles flew 200 kilometers (124 miles) Monday, South Korea's Joint Chiefs of Staff said in a text message. North Korea has been trying to improve the range of its multi-rocket launchers as well as short-range ballistic missiles.
The regime in Pyongyang has launched a series of ballistic missiles in recent weeks, including one that flew 800 kilometers on March 18, prompting the 15-member security council to issue a statement calling the actions "unacceptable."
The council unanimously passed sanctions early this month to punish North Korea for its long-range rocket launch in February and a fourth nuclear test in January. Its resolutions ban North Korea from developing ballistic missiles out of concern that they could be used to carry nuclear bombs. North Korean leader Kim Jong Un pledged to continue to test nuclear bombs and ballistic missiles, the country's official media reported March 15.
Before it's here, it's on the Bloomberg Terminal.
LEARN MORE