National Oilwell Considering Billion-Dollar M&A in Oil Slump
by
Co. has $2.1 billion cash, $3.6 billion undrawn on revolver

Need to be patient, make sure getting good value: Williams
After slowing down its M&A machine considerably over the past two years, National Oilwell Varco Inc. is looking at acquisitions in the billion-dollar range.
The largest U.S. maker of oilfield equipment made seven acquisitions last year for a total of $86 million, a sharp drop from 2013, when it spent $2.4 billion in cash to buy Robbins & Myers Inc. Up until Clay Williams took over as chief executive officer in early 2014, National Oilwell Varco had made at least $1 billion in acquisitions for each of the three previous years, according to federal filings.
"We've had some larger acquisition opportunities we've looked at," Williams said in an interview Monday in New Orleans at the Scotia Howard Weil Energy Conference. "We have a lot of liquidity and a lot of access to capital, so I think we have a broad range of things that we can consider."
Last month National Oilwell Varco reported its biggest quarterly loss since 2000 as customers cope with the worst crude market downturn in decades by cutting orders for new rigs, pipes and other gear in the oil patch. The company ended the year with $2.1 billion in cash and $3.6 billion in undrawn capacity on its revolving credit facility.
National Oilwell, which has seven buy ratings from analysts, 24 holds and six sell recommendations, has fallen 3 percent this year. The shares fell 0.3 percent to $32.48 at 10:16 a.m. in New York.
Moody's Downgrade
Moody's Investors Service downgraded the company's senior unsecured debt ratings last week and gave the equipment maker a stable outlook.
"While demand for the company's products and services tied to new offshore drilling and land rig construction will remain weak, revenue from products and services tied to ongoing production activity should provide a meaningful base level of ongoing cash flow," Peter Speer, an analyst at Moody's, wrote in a March 14 note. "If NOV were to make large acquisitions without substantial equity funding or conduct further share repurchases then its rating could be downgraded."
Williams, who oversaw acquisitions at Varco Inc. before it was bought in 2004 by National Oilwell Inc. for $3 billion, said he'd like to deploy capital opportunistically in the downturn because it's the kind of environment that can lead to good values. He added, though, that he doesn't feel like he must pull the trigger.
"We really need to be patient and make sure we're getting good value for our shareholders as we move forward on transactions," Williams said "It's turned out to be a much rougher downturn than most of us thought this time last year."
Watch Next: Here's Why This Is Only the Fourth Time Oil Has Tanked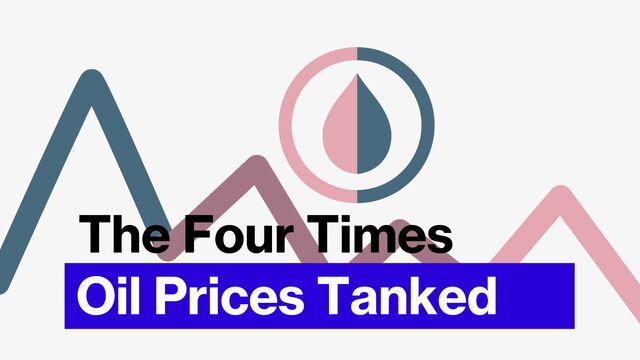 Before it's here, it's on the Bloomberg Terminal.
LEARN MORE