Indonesia Detains Chinese Fishermen After S. China Sea Chase
by
China coast guard ship collides with boat in Indonesian waters

Clear that Natuna belongs to Indonesia, foreign minister says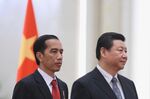 Indonesia detained the crew of a Chinese boat suspected of illegally fishing in its waters after a chase involving a Chinese coast guard vessel.
QuickTake Territorial Disputes
The government submitted a protest to China's charge d'affaires Sun Weide in Jakarta over the incident in Indonesia's economic zone near the Natuna islands, Foreign Minister Retno Marsudi said, according to state news agency Antara.
Earlier, ministry spokesman Arrmanatha Nasir said a Chinese coast guard vessel had entered the melee, colliding with the fishing boat as it was being towed by an Indonesian patrol ship. It was unclear how many fishermen were on the boat and are now being held.
"We are concerned, but I can't say much more before all the facts are verified," Nasir said.
Under President Joko Widodo the government has taken a more assertive approach to foreign policy, stepping up control of the borders of the world's largest archipelago, developing its coast guard and blowing up vessels found illegally fishing in its waters. Indonesia is also deploying warships in the gas-rich waters around Natuna, in response to China's growing military presence in the disputed South China Sea.
So far though Indonesia has largely avoided being caught up in the South China Sea tensions, which have seen China's relations deteriorate with the Philippines and Vietnam even as economic ties remain strong. Indeed, Marsudi stressed in the statement to China that Indonesia is not a claimant in the waters, Antara reported.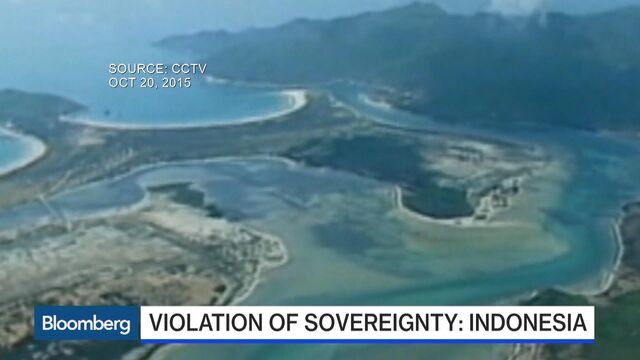 Chinese Passports
On March 19, a Chinese fishing boat in the country's conventional fishing waters was attacked and harassed by armed Indonesian vessels, and a coast guard ship went to its aid, China's Foreign Ministry said in a statement carried on the Global Times website.
"The Chinese side urges the Indonesian side to immediately release the fishermen being captured and to assure their safety," it said.
China claims more than 80 percent of the South China Sea, one of the world's busiest waterways, based on a so-called nine dash line for which it won't give precise coordinates, and has undertaken large-scale land reclamation in the area to enable airstrips and other features to be built. In passports issued in 2012, China's line encroached on the exclusive economic zone that Indonesia derives from the Natuna islands. Indonesia hasn't recognized the claim.
"Natuna belongs to Indonesia, it is very crystal clear that Natuna belongs to Indonesia," Marsudi told Bloomberg in an interview on Friday. "I would like to emphasize that Indonesian sovereignty over Natuna is very clear and recognized by China as well."
The Association of Southeast Asian Nations needs to press on with talks for a code of conduct for the South China Sea, she said. One of the Indonesian government's main foreign policy objectives was to resolve maritime territorial disputes with its neighbors, Marsudi said.
Before it's here, it's on the Bloomberg Terminal.
LEARN MORE