Deutsche Bank: This Indicator Is Sending Warning Signs for Household Incomes
What tax receipts are telling these economists.
by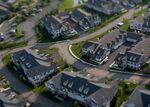 Economic data points have been sending some mixed signals lately, with the jobs picture continuing to look strong but retail sales failing to meet expectations. This has caused a team of economists at Deutsche Bank to take a hard look at what they say is one of their most-liked indicators. Unfortunately, it seems to point toward the glass-half-empty argument. 
"When the economic data send conflicting signals with respect to the near-term growth outlook, it is useful to focus on series that many investors may ignore," the team, led by Chief U.S. Economist Joseph LaVorgna, said in a note. "Withheld income tax receipts are one of our favorite indicators, and the recent trend in this series has elevated our concern with respect to overall income growth."
What's troubling them is that tax receipts began trending lower in the final four months of 2015 and haven't picked up since. The team found that tax receipts are running 3.5 percent ahead when compared to one year ago. However, that's below the 5 percent or higher growth rate that we had been seeing in the U.S., starting in the second quarter of 2014. "The last time that tax receipts were tracking this low was Q1 2014 (3.3 percent), when real GDP growth fell -0.9 percent annualized," the team pointed out. Here's a chart looking back to 2007, where you can see a big drop during the financial crisis. 

Deutsche Bank is concerned about this for two reasons. The first is that it indicates that the wealthiest households in the U.S. are not doing as well as they had been earlier in the recovery. These top brackets bear greater weight on tax receipts because they account for the majority of income taxes paid each year. The second reason is that the jobs picture may look great right now, but it could soon reach what is known as "full employment." A number of officials at the Federal Reserve have made comments recently about how close we are to reaching that level. With the resulting slowdown in job growth, income growth will have to comes from wage growth or an increase in the number of hours worked each week. The bank thinks this could be tough: "While there are some nascent signs that wage growth may firm in the quarters ahead, the fact that wage gains have been concentrated in only a few sectors calls into question whether wages are on a sustained uptrend."
While jobless claims are still near a post-recession low, the team remains cautious. "[W]e are vigilant for any sustained uptrend that would indicate a more pronounced deterioration in hiring. With tax-receipt growth trending downward, the risk is that the pace of job growth may slow a bit."
Before it's here, it's on the Bloomberg Terminal.
LEARN MORE