Debt-Pinched Palestinian Premier Longs for Aipac-Like Power
By and
Hamdallah says peace talks with Israel should copy Iran model

Trump, Clinton unlikely to alter U.S. approach to Palestinians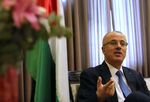 As foreign assistance dwindles and credit limits hold back growth, Palestinian Prime Minister Rami Hamdallah sees little chance of salvation coming from U.S. presidential frontrunners Donald Trump and Hillary Clinton.
Hamdallah looks with envy at this week's Washington convention of the American-Israel Public Affairs Committee, where the White House hopefuls declared their support for the Jewish state before a crowd of 18,000 activists on Monday. Palestinians dream of establishing a parallel lobby that could help avert further slashes in U.S. aid by Congress.
"We don't have an Aipac," Hamdallah, 57, said in an interview at his office in the West Bank city of Ramallah. "Maybe we should explore that."
U.S. aid has steadily shrunk to $440 million in direct assistance last year from a high of about $1 billion in 2009, according to Congressional Research Service figures, as some lawmakers have questioned the wisdom of such allocations while Palestinian-Israeli violence persists.
Protesters picketed the Aipac conference outside the Washington Convention Center on Monday, waving Palestinian flags and calling on Congress to cut its $3.1 billion annual aid to Israel.
Both Clinton and Trump said in their speeches at Aipac that they would make new efforts if elected to resolve the Middle East conflict, while pledging special support for Israel.
"The Palestinians must come to the table knowing that the bond between the United States and Israel is unbreakable," Trump told the cheering crowd.
The Palestinian economy has been battered over the past decade by repeated military conflicts with Israel, diminished aid from donor nations, Israeli restrictions on the movement of people and goods, and an internal split that left rival governments in the West Bank and Gaza Strip. 
Israeli Restrictions
Israeli obstacles to construction and investment in the 60 percent of the West Bank where most settlements lie have also dragged down the economy, said Jehad Harb, a researcher at the Palestinian Center for Policy and Survey Research in Ramallah.
"The demand is big and the donor money is essential," he said.
Gross domestic product grew an estimated 2.9 percent last year after contracting 0.4 percent in 2014, according to the International Monetary Fund. Unemployment was 27 percent, unchanged from the previous year.
Among the biggest challenges has been borrowing money from the Bank of Jordan, Bank of Palestine and other commercial lenders as the authority approaches its $1.3 billion credit limit. The authority won praise from IMF officials last month for cutting expenses, generating more tax revenue and paying off $1.3 billion to reduce its pension fund debt to $4.2 billion.
Reluctant to Borrow
"We could borrow more actually but we are hesitant to do that," said Hamdallah, a former president of An-Najah University in Nablus who holds a doctorate in linguistics.
The prime minister, whom President Mahmoud Abbas appointed to lead his cabinet in 2013, says the U.S.-dominated peace process that failed to produce an agreement in 2014 must be overhauled to include other world powers, a step Israel has vigorously opposed out of concern it would favor the Palestinians.
One useful model, Hamdallah says, is the Iran nuclear agreement concluded in July through a negotiating team composed of world powers that included the U.S., France, Germany, Russia, China and the U.K.
"When the international community came together, the Iranian issue was solved peacefully, so why shouldn't that apply here," Hamdallah said. A multinational conference proposed by France has potential to break the logjam, he said. Israel has reacted coldly to the French proposal.
Growing Influence
With more than 75,000 Palestinians living in American cities such as Chicago, Detroit, New York and Patterson, N.J., the diaspora community is gaining political influence, particularly on college campuses where a campaign is gaining steam to boycott Israeli goods and divest from companies that do business with Israel.
While that's dwarfed by the millions of U.S. Jews and evangelical Christians who support Israel, Palestinians need to put more resources into Washington by setting up think tanks and cultivating lobbyists, said Husam Zumlot, an economist and strategic adviser to Abbas.
"This is planting seeds," he said in an interview in a Ramallah hotel lobby. "If one day the resources are available, the Aipac model would be much more effective."
No matter how well his government manages its finances, Hamdallah says only a peace agreement with Israel that establishes an independent state will enable Palestinians to improve conditions significantly in the West Bank and Gaza.
"You can't have a sustainable economy without a political horizon,'' he said.