Five Things You Need to Know to Start Your Day
Get caught up on what's moving markets.
by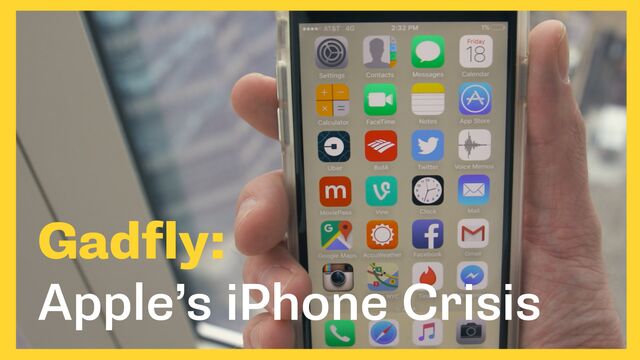 Want to receive this post in your inbox every morning? Sign up here
China warns on debt, markets are higher, and Apple prepares to unveil its new iPhone. Here are some of the things that people are talking about today.
China bonds and stocks
It was a busy weekend for China watchers. The governor of the People's Bank of China warned yesterday that corporate debt as a ratio of gross domestic product had become too high. Bloomberg data shows that those same corporations are having to endure the longest wait since 1999 to get their customers to pay for what they have bought. This news did not dampen spirits in the stock market however, with the Shanghai Composite Index rallying above the 3,000 level after China Securities Finance Corp., the state-backed agency that provides funding to brokerages for margin trading, said late Friday it will restart offering loans to securities firms.
Markets and a deal
Equity markets in Europe are also rallying this morning with the Stoxx 600 Index rising 0.4 percent by 10:05 a.m. London time and Germany's DAX index jumping 1.2 percent. S&P 500 futures added 0.1 percent. In commodities, iron ore futures jumped as much as 4.8 percent to $55.95 a metric ton in Singapore, boosted by further signs of a recovery in China's property market. Gold was lower. The biggest deal so far today is data company IHS Inc's agreement to acquire Markit Ltd. in a move that values the combined firms at more than $13 billion and is being viewed as another sign of consolidation in the financial-infrastructure industry.
A new iPhone
At an event in California later today Apple Inc. will launch a new iPhone with a 4-inch screen, more similar in looks to the iPhone 5c than the current larger iPhone 6, according to a person familiar with the details. Apple, which is still embroiled in a legal battle with the FBI over access to a phone used by the San Bernardino terrorists, is looking to break into the large Indian market with their new iPhone. Follow the launch live on Bloomberg throughout the afternoon.
Oil is falling
Oil prices are falling for a second day, with West Texas Intermediate futures falling as much as 83 cents a barrel on the New York Mercantile Exchange before recovering somewhat to trade 30 cents lower at $39.14 a barrel at 10:20 a.m. London time. Recent price rises to more than $40 a barrel had led the International Energy Agency to conclude that the worst of the rout is over, while speculators have become the most bullish on the commodity since June of last year. 
Brazilian politics
Investors will need to keep a close eye on developments in Brazil this week, where the appointment of former President Luiz Inacio Lula da Silva to the cabinet is now going to the Supreme Court for adjudication. With one poll over the weekend showing two-thirds of Brazilians wanting President Dilma Rousseff ousted, the stakes couldn't be higher for her administration. The increasing chances of Rousseff's impeachment have proven a boon for the country's finances as investors bet that the fall of her administration would lead to a new government that could revive the economy. 
What we've been reading 
This is what's caught our eye over the weekend.
Before it's here, it's on the Bloomberg Terminal.
LEARN MORE