Watches
Six Watches That Were Genuinely Surprising at Baselworld 2016
After four days of looking at hundreds of new straps, different color combinations, font updates, and new materials, I can honestly say these six watches are actually moving the needle in the industry.
by
At this year's Baselworld watch and jewelry fair, there are a lot of new watches. Such brands as Rolex, Tag Heuer, Patek Philippe, Casio—and everything in between—introduce thousands and thousands of new timepieces to buyers, clients, and journalists. Most of them are not that exciting. But in 2016 there are a few watches that stand out for their impressive engineering and ambitious design. They aren't all incredibly expensive or even flashy, they're just good and represent where the industry should be going. Here are six I liked.
Ulysse Nardin Grand Deck Marine Tourbillon

This was the most unique watch I saw at Baselworld. Designed to look like the deck of a wooden schooner with a boom that sweeps across to indicate the minutes of the hour, it is the kind of watch your friends would immediately ask you about—and beg to play with. Ultra-thin fiber nanowires control the boom; they are thinner than a hair but can carry more than a kilo worth of weight. (The hour is displayed in numerals at the 12 o'clock, and a tourbillon sits at 6 o'clock.) The power reserve in the Christophe Claret-designed movement is 52 hours, the case is 18K white gold, and only 18 pieces will be made. It will retail for $280,000.
Bulgari Octo Finnissimo Minute Repeater

The amazing thing about this watch is that when you put it on, it just looks like a handsome, comfortable, distinguished boardroom watch. But it actually represents a huge achievement for a jewelry brand that, 10 years ago, was not considered a competitor in the world of haute horologie. Since that time, Bulgari has moved all its work in house, from dials to cases to movements, and it has garnered a lot of esteem along the way. The Octo Finnissimo is the world's thinnest minute repeater; at 6.85 mm, it is thinner than an iPhone 6. It's made of titanium, so it weighs only 43 grams and resonates a lovely sound that's better than it would have been if it were steel or gold. Only 50 will be made; price is $155,000.
Bulova CURV

Not every watch on this list is going to have a mechanical movement; companies that are making quartz watches at much more affordable price points are also doing interesting things to try and impress consumers. Here, Bulova has created the world's first curved chronograph movement. It's a handsome watch that was cleverly designed—all the pieces in the movement have to be built curved, too, not just the base plate. The curve means it fits the wrist extremely well and will tuck right under your dress shirt nicely. At $799 in stainless steel and $899 in ultra-light titanium, it is a very accessible model. You can get it in stores now.
Jacob & Co. Astronomia Sky

This watch is crazy. Like, "What is happening on my wrist? How could I ever afford this? Do I live in space?" crazy. It has what Jacob & Co. calls a twin-turbo tourbillon on a double-axis movement. Opposite the tourbillon is the hours and minutes indicator, and on the other axis is the seconds indicator. At the center of the movement is a globe that tells you whether it's day or night, and on the baseplate is a ring that tells you the sidereal time, which is the time relative to the stars (instead of the sun). A slim rose-gold ring will show you what constellations you should be able to see in the northern hemisphere right now. It's 47 mm wide and quite high—you would have to wear it as a statement bracelet rather than anything you could try to squeeze under a cuff. Fewer than 25 per year will be made, and depending on materials, the price could range from $540,000 to $800,000. (Pictured is the rose-gold case.)
Citizen Eco-Drive One

You may know Citizen as a decades-established maker of solar-powered quartz movements and watched over the years as its timepieces have become more elegant, more subtle, and more ambitious. The Eco-Drive is worth talking about because it is the world's thinnest light-powered watch. The whole thing is just 2.98 mm thick, and the movement itself is just 1 mm. It feels like nothing on the wrist and looks like an optical illusion. Plus, the solar mechanism will hold a charge for eight months in the dark. Citizen will make only 800 of them, and they will retail for $6,000.
Hublot MP-07

Outside the dramatic Hublot booth at Baselworld was a display with an all-sapphire Hublot LaFerrari, its halo watch, which retails for $575,000. (Obviously, that one's aimed at Ferrari fans, being named after the marque's million-dollar supercar.) But downstairs in the bowels of the showroom, I got to play with the MP-07, which takes some of the ideas behind the LaFerrari and transforms them into a new, slightly more affordable watch. The MP-07 also has a verticalized movement (if you peer into a round convex lens on the side, you can see the tourbillon at work) and is also designed to be easily read while driving a car. The minutes and hours are at the bottom left, while the seconds are on the upper right, and the power reserve is at bottom right. The watch has a remarkable 42-day power reserve and comes with a very intense winding box, if that's your thing. It will retail for $276,000.


Watch Next: These Are the Five Coolest Watches at Baselworld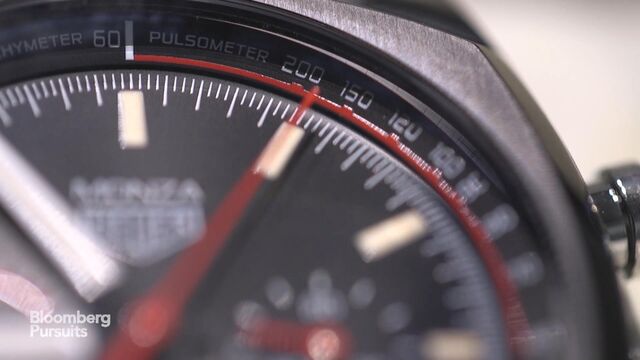 Before it's here, it's on the Bloomberg Terminal.
LEARN MORE