Australia's Turnbull Sets Stage for July 2 National Election
by
Government brings forward federal budget by one week to May 3

Turnbull demands Senate pass bills to crack down on unions
Australia's Prime Minister Malcolm Turnbull said he will call an election on July 2 unless the Senate passes legislation to crack down on trade unions.
Militant union activity is acting as a "handbrake on growth" and the government will hold a so-called double dissolution election unless bills to restore a building industry watchdog and set up a commission to regulate unions are passed by mid-May, Turnbull said Monday. The federal budget will now be held May 3, a week earlier than planned, he said.
"The time for playing games is over," Turnbull told reporters in Canberra. The Senate had "to recognize its responsibilities and help advance our economic plans, rather than standing in the way," he said.
The move is a gamble by the former investment banker, whose government has been beset by policy inaction and an economy suffering from a waning mining boom. The popularity of Turnbull's Liberal-National coalition has slipped since he seized the leadership six months ago, and he's now seeking to pressure the opposition Labor Party and win voters by making industrial relations a key election platform.
Political Wedge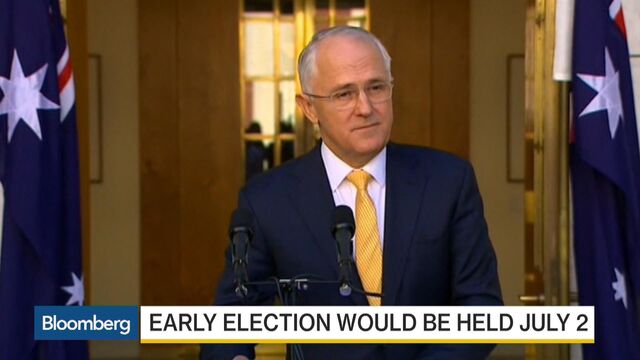 "Turnbull is using the union issue as a wedge against Labor because he's willing to bet that his government will be able to win a July election," said Nick Economou, a Melbourne-based professor at Monash University's School of Political and Social Inquiry. "His government would be the clear favorite to win, albeit probably with a reduced majority."
A Newspoll published in the Australian newspaper on Monday showed the coalition leads Labor 51 percent to 49 percent on a two-party preferred basis. That's even as voters express disappointment at Turnbull's leadership, with more now dissatisfied with his performance than satisfied. The poll, conducted March 17-20, surveyed 2,049 voters and has a margin of error of 2.2 percentage points.
Turnbull cited a lack of economic leadership as his reason for ousting Tony Abbott in September. Business leaders have since criticized Turnbull, saying his government's lack of progress on tax reform is creating uncertainty for the country.

"The earlier Turnbull can call an election the better because the popularity that helped him get the job in the first place has been in decline," Griffith University political analyst Stephen Stockwell said. "The danger is his popularity could fall further the longer he leaves calling the election."
Parliament will be recalled on April 18 for three weeks to debate the legislation, which has already been rejected by the Senate, Turnbull, 61, said. The budget will be brought forward by a week to give lawmakers more time to consider the bills, he said.
Double Dissolution
If the legislation is not passed, Turnbull said he would call the double dissolution election, the first since 1987. All 150 seats in the House of Representatives and all 76 Senate seats are up for grabs in such a ballot. In a normal election, only half the Senators from the six states are replaced.
Last week, the government overhauled voting laws to make it harder for independent candidates to be elected to the Senate with only a tiny fraction of votes. Eight independent and micro-party lawmakers collectively hold the balance of power in the Senate currently and are helping block A$13 billion ($10 billion) in budget savings.
A double dissolution election, held under the new Senate voting laws, will potentially clear most of them out of the upper house and may allow the coalition to strengthen its grip on power.
'Panic Mode'
Labor leader Bill Shorten said Turnbull was putting his own future ahead of the nation's. "Today Australians have seen a PM in full panic mode," Shorten told reporters.
Attention will now focus on whether the independents will reverse their previous collective opposition to the industrial relations laws. Should they vote in support of the bills, it would remove Turnbull's trigger for a double-dissolution ballot. Most of them wouldn't face re-election under a normal ballot, that would probably be held between August and October.
"It wouldn't be a surprise" if the legislation fails to pass and the prime minister calls an early election, Trade Minister Steven Ciobo said in an interview with Bloomberg Television on Monday. The Senate should "respect the mandate that the government has" and pass the laws, he said.
Before it's here, it's on the Bloomberg Terminal.
LEARN MORE