Atlantic City Mayor Warns of Shutdown Amid Push for State Rescue
by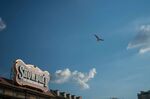 Atlantic City's mayor said workers won't be paid and non-essential services will be shut down for about a month beginning April 8 as the distressed gaming hub pushes for New Jersey to rescue it from the brink of insolvency.
No employees would be paid until at least May 2, when the city will get its next installment of taxes, Mayor Don Guardian said in an e-mailed statement Monday. While essential services such as public safety and revenue collections will continue, other functions will cease and City Hall will close 4:30 pm local time on April 8.
"We are making every effort to find solutions" prior to that date, Guardian said.
Moody's Investors Service warned that the city could default on debt as early as next month without state action, and local officials have floated the possibility of filing for bankruptcy. Bills that would provide the city with a cash infusion and give the state control over its operations are pending in the New Jersey legislature.
The mayor earlier Monday met with the state agency that oversees the city's finances.
"The city's ongoing financial position is of grave concern to the division," said Tammori Petty, a spokeswoman for the Department of Community Affairs.
Before it's here, it's on the Bloomberg Terminal.
LEARN MORE