AmEx Cuts CEO's Pay 26% to Lowest Since 2008 as Stock Slides
by
CEO Ken Chenault awarded $18.5 million for work in 2015

AmEx shares tumbled 25% last year as net income fell 12%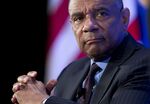 American Express Co. cut Chief Executive Officer Kenneth Chenault's pay 26 percent to the lowest level since 2008 after the credit-card lender's stock and profit slumped last year.

The board awarded him $18.5 million for 2015, according to a filing on Monday. Chenault, the company's leader since 2001, has ranked among the U.S. financial industry's highest paid CEOs in recent years, with a $25.1 million package for 2014.
Chenault, who also serves as chairman, has been shaking up management and reshaping divisions to rejuvenate earnings amid stiffer competition, a strong U.S. dollar and new regulations. The New York-based lender's stock tumbled 25 percent last year as net income fell 12 percent. The shares have slid an additional 12 percent this year.
"We recognize that our 2015 performance was disappointing," Chenault, 64, told investors during an annual presentation on March 10. "I can assure you, we're not standing still."
'Subpar Performance'
Chenault's pay for last year exceeded that of some of the biggest U.S. bank CEOs, including Citigroup Inc.'s Mike Corbat and Bank of America Corp.'s Brian T. Moynihan, who received $16.5 million and $16 million, respectively. Jamie Dimon of JPMorgan Chase & Co. was paid $27 million, a 35 percent boost from a year earlier, while Morgan Stanley's James Gorman got $21 million and Goldman Sachs Group Inc.'s Lloyd C. Blankfein received $23 million. Wells Fargo & Co.'s John Stumpf's pay was unchanged from a year earlier at $19.3 million.
"While compensation did come down quite a bit, it's still high relative to the company's subpar performance in 2015," said William Ryan, an analyst at Portales Partners LLC who rates the stock sector perform. "Investors have lost a lot of confidence in the leadership at American Express and, obviously, his ability to get the company back on track in 2017 will be key to restoring confidence in his abilities."
Factoring in the decline in the company's share price and its effect on earlier stock grants, Chenault's "realizable pay" for 2015 was $16.9 million, according to the proxy.
Separately, the board nominated Ralph de la Vega, 64, CEO of business solutions for AT&T Inc., as a director after a search firm identified him as a candidate, AmEx said.
Before it's here, it's on the Bloomberg Terminal.
LEARN MORE