`Zootopia' Topples `Kung Fu Panda' Record at China's Box Office
by
Disney cartoon rakes in more than $170 million since debut

China cartoon market expected to double by 2020, Xinhua says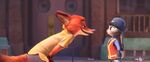 Walt Disney Co.'s "Zootopia" overtook "Kung Fu Panda 3" as the highest-grossing cartoon in China after raking in more than 1.1 billion yuan ($170 million) since it debuted in the the world's second-largest movie market on March 4.
The animated film, featuring a rookie rabbit cop and sly fox who uncover a conspiracy, topped the box office by collecting 154 million yuan over the weekend, according to data from Entgroup Inc. The next best performer, "Kung Fu Panda 3," took in 992.5 million yuan.
The China figures build on the global success of "Zootopia," which set a box-office record for Disney's animation studio when it opened in North America. Animated features are also gaining popularity in China, where the cartoon market is expected to double to about $31 billion by 2020, according to a Xinhua news agency report.
In North America, "Zootopia" brought in $38 million in its third weekend. Featuring the voices of Ginnifer Goodwin and Jason Bateman, the film continued to score big for Disney. The weekend sales brought the film's domestic total to $201.8 million according to ComScore.
Before it's here, it's on the Bloomberg Terminal.
LEARN MORE