Fed Grants African Central Banks Reprieve to Pause on Rates
by , , and
Ghana, Kenya and Nigeria seen keeping interest rates unchanged

More stable currencies and commodity recovery support pause
Central banks in west and east Africa may have room to hold off on raising interest rates this week as the U.S. Federal Reserve scaled back expectations for tighter policy, buoying emerging-market currencies.
Ghana, Kenya and Nigeria are set to announce interest-rate decisions after taking divergent policy options in 2015. While Ghana and Kenya raised interest rates to curb currency weakness and accelerating inflation, Africa's largest economy opted to cut borrowing costs to support growth. This week all three will probably hold, according to analysts surveyed by Bloomberg.
"The U.S. Fed decision to pause on hiking interest rate gives room to central banks in Ghana and Kenya to also pause," Courage Kingsley Martey, an economist at Accra-based Databank Group Ltd., said by phone on March 17. "Developments with the Ghanaian currency have been better than expected and that lowers the risk for inflation, and the Kenyan shilling has been well-behaved."
From Zambia to South Africa, African currencies were among the worst hit by a slide in investor sentiment toward emerging and frontier markets last year. Now investors have tempered their expectations for further U.S. rate increases and commodity prices recovered from a 16-year low, restoring some of the appeal of emerging markets and propping up African currencies. The Bloomberg commodity index is up 3.6 percent so far this year, after falling almost 25 percent in 2015.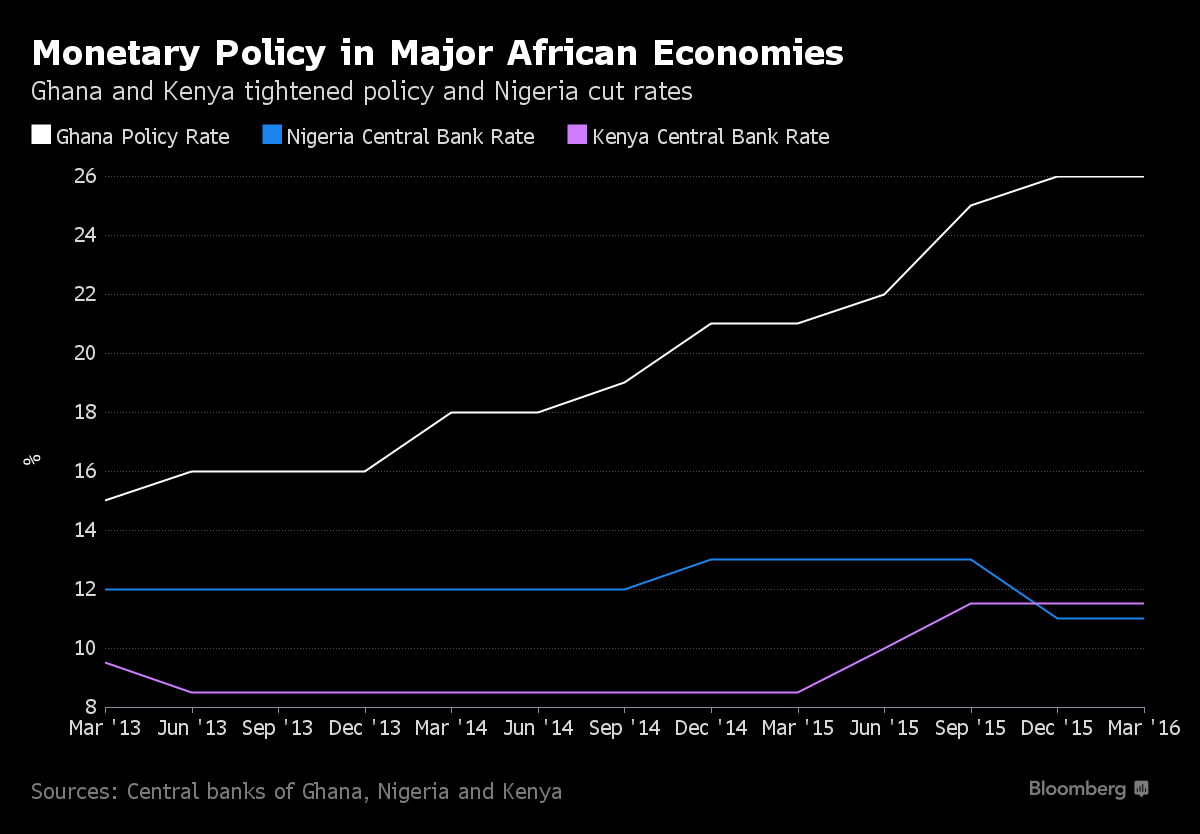 South Africa's Reserve Bank increased its benchmark repurchase rate for the third consecutive meeting last week, saying the rand's 25 percent plunge against the dollar and rising food prices due to the worst drought in more than a century pose upside risks to its inflation outlook. Price growth in Africa's most industrialized economy accelerated to 6.2 percent in January, exceeding the central bank's 3 percent to 6 percent target band.
Ghana and Kenya, which are due to announce rate decisions on Monday, are set to keep their benchmark rates at 26 percent and 11.5 percent respectively, according to most of the economists surveyed by Bloomberg. The Central Bank of Nigeria will probably maintain its key interest rate unchanged at 11 percent on Tuesday, according to all 14 economists surveyed by Bloomberg.
Kenya Inflation
After slumping by 11 percent last year, prompting the Central Bank of Kenya to raise borrowing costs by 300 basis points, the shilling has gained 0.7 percent against the dollar since the start of the year. While inflation slowed to 6.8 percent last month, below the government's 7.5 percent target, and economic growth accelerated to 5.8 percent in the third quarter of 2015, policy makers will hold off cutting rates for now even as the risk of more tightening remains, according to John Ashbourne, Africa economist at Capital Economics Ltd.
"Maybe over the course of the year they may cut, but it will depend on inflation," Ashbourne said by phone from London. "The country may still experience a bad harvest and food prices may go up, pushing up inflation. This would force the Central Bank of Kenya to keep rates where they are or raise."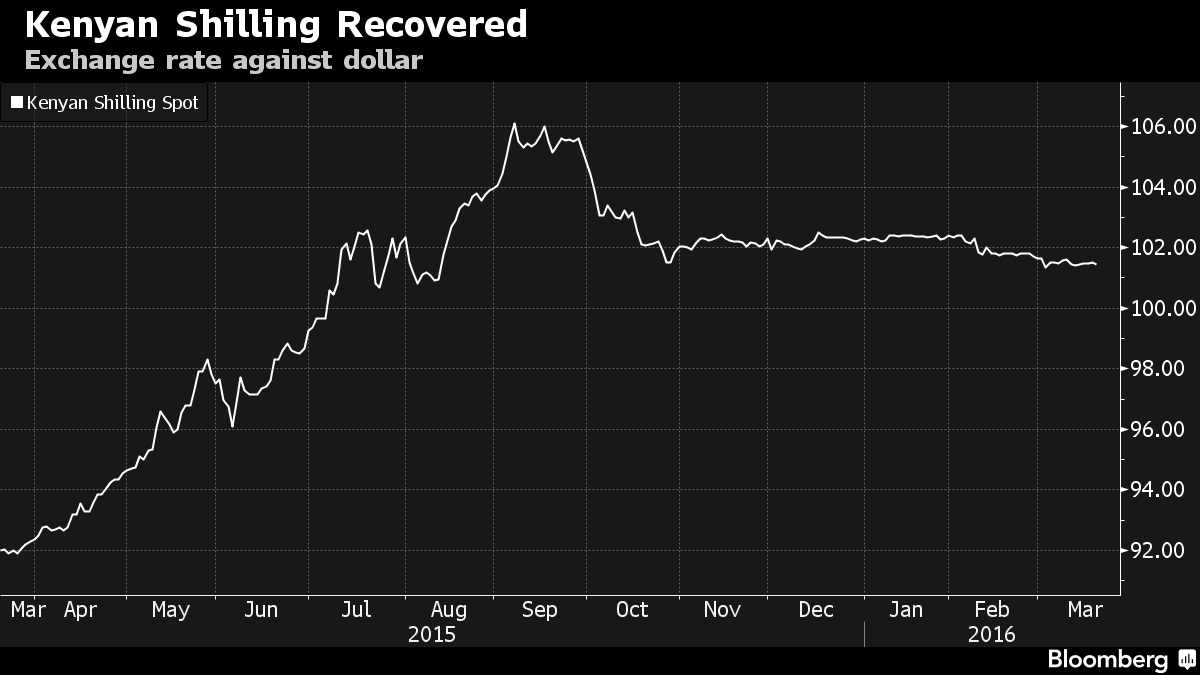 Inflation in Ghana slowed for the first time in six months in February, to 18.5 percent from 19 percent the previous month. The Bank of Ghana targets inflation between 6 percent and 10 percent.
"Policy is already tight, and given that CPI is currently being driven by relatively exogenous factors such as food and energy, we do not believe that further tightening will be able to push inflation back to target until late" in the fourth quarter of next year, Michael Kafe, a Johannesburg-based Africa economist at Standard Bank Group Ltd., said in an e-mailed response to questions on March 17. "Were inflation to accelerate past the 20 percent mark in the coming months, however, we believe that the Bank of Ghana could well respond."
Currency Peg
In Nigeria, Governor Godwin Emefiele slashed the policy rate by 200 basis points in November to stimulate an economy which expanded at the slowest pace in 16 years in 2015. The central bank's pegging of the naira at 197-199 per dollar in the past year has accelerated price growth by leading to dollar shortages and causing the black-market exchange rate to plunge and the inflation rate rose to double digits in February for the first time since 2012.
Standard & Poor's Ratings Services revised Nigeria's outlook to negative from stable on Friday, saying the nation's foreign currency policy was creating "dislocations" in product and financial markets. The agency affirmed its B+/B rating, according to an e-mailed statement.
"We expect that at some point the government should loosen exchange controls, but there is no guarantee they will do that," Ashbourne said. "Tinkering with rates in Nigeria would make things much worse. It's in a different situation than Kenya and Ghana where inflation is slowing down and growth is picking up."
Before it's here, it's on the Bloomberg Terminal.
LEARN MORE