Congo Extradites Rwandan Genocide Suspect Ntaganzwa to Rwanda
Ignatius Ssuuna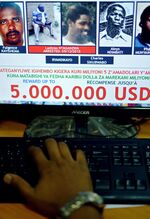 The Democratic Republic of Congo extradited Ladislas Ntaganzwa, who has been indicted by the International Criminal Tribunal for Rwanda for crimes linked to the 1994 genocide.
Ntaganzwa is among the 10 most-wanted fugitives suspected of being involved in the killings, which left more than 800,000 ethnic Tutsis and moderate Hutus dead.
"We have extradited him back to Rwanda to face justice," Congolese Information Minister Lambert Mende said by phone Sunday from the capital, Kinshasa. Rwandan authorities were sent to the aiport in Kigali to receive Ntaganzwa, Faustin Nkusi, a spokesman for Rwanda's state prosecutor, said by phone.
Rwanda accuses Ntaganzwa of personally organizing the massacre of 20,000 people during the 100-day genocide. He has been on the run for more than two decades. Ntaganzwa and his lawyers have not commented on the allegations, according to the British Broadcasting Corp.
The ICTR indicted Ntaganzwa, a former mayor, with five counts including genocide and other crimes against humanity. It later transferred his case for national prosecution in Rwanda. The U.S. Department of State offered a $5 million bounty for information leading to his arrest, transfer or conviction, saying he was a key organizer of the 1994 killings.
Before it's here, it's on the Bloomberg Terminal.
LEARN MORE