Telecom Italia CEO Patuano Said to Step Down After Vivendi Clash
by , , and
Chairman Recchi to assume duties until new CEO is named

Flavio Cattaneo said leading candidate to replace Patuano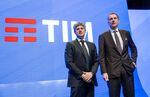 Telecom Italia SpA Chief Executive Officer Marco Patuano will resign after clashing with Vivendi SA, the company's biggest investor, two officials at the carrier said, ending a 2 1/2-year tenure leading Italy's former phone monopoly.
Chairman Giuseppe Recchi will assume Patuano's duties until a replacement is appointed, the officials said on Saturday. They asked not to be named because Patuano, 51, hadn't yet signed resignation documents. The leading candidate to succeed him is Flavio Cattaneo, CEO of Rome-based high-speed train operator Nuovo Trasporto Viaggiatori SpA, according to two people. Luigi Gubitosi, former CEO of carrier Wind Telecomunicazioni SpA, is also being considered, they said.
Patuano's resignation culminates a seven-month struggle with Vivendi Chairman Vincent Bollore, who steadily raised the French media company's stake in Italy's biggest carrier. Bollore favors a sale of Tim Participacoes SA in Brazil to focus more on Italy, where Telecom Italia generates about 70 percent of sales, people familiar with the matter said last year.
With Patuano gone, Bollore may accelerate the sale of the Brazilian unit and use the cash to reinvest in the domestic Italian market, Carlo Alberto Carnevale Maffe, a professor of business strategy at Milan's Bocconi University, said in a phone interview.
"Marco was the one who changed the company's brand to Tim from Telecom Italia, and it's pretty ironic that in the new era with the French commanding the ship the word Italy has disappeared," Maffe said.

Patuano may receive a 7 million euro ($7.9 million) payout when he departs, the officials said. Large shareholders expressed full confidence in the board and Recchi, they also said.
Vivendi had been reviewing Patuano's position, losing patience after investing about 3.5 billion euros, people familiar with the matter said earlier this month. In February, Telecom Italia's 17-member board added Bollore allies to its two key committees.
Patuano recently met Vivendi's top management to discuss strategy issues such as cutting costs, revamping the domestic business and reviewing options for Brazilian unit Tim, according to the people. Vivendi had been pushing Patuano to transform the carrier into a media group with a distinct focus on southern Europe.
Vivendi CEO Arnaud De Puyfontaine has met with potential candidates to replace Patuano, according to one of the people.
Telecom Italia will issue a statement on Patuano's resignation when it becomes official, the people said. Corriere della Sera reported earlier on Saturday that Patuano was about to step down, without saying where it got the information.
Italy's biggest phone carrier reported a 2015 loss after a negative impact of bond transactions during the first part of the year. The net loss was 72 million euros, compared with net income of 1.35 billion euros in 2014, the Milan-based company said Thursday.
Patuano, born in Alessandria, near Turin, joined Telecom Italia in 1990 after a degree in Finance at Milan's Bocconi University. He presided over an almost 60 percent increase in Telecom Italia shares. He sold the carrier's stake in Telecom Argentina SA for $960 million and planned to sell a stake in tower unit Inwit.
"Patuano got back on the right track a company that had suffered before him a vacuum of strategy and a lot of regulatory issues," Maffe said.
Telecom Italia shares have been on the rise since mid-February as Bollore stepped up the pressure. They closed little changed at 1.01 euros on Friday, and are down 10 percent so far this year.
Before it's here, it's on the Bloomberg Terminal.
LEARN MORE