What Brazil's Locals Know That Frenzied Foreign Investors Don't
by and
As overseas investors pour money in, locals sell out of stocks

Political turmoil making Brazil markets world's most volatile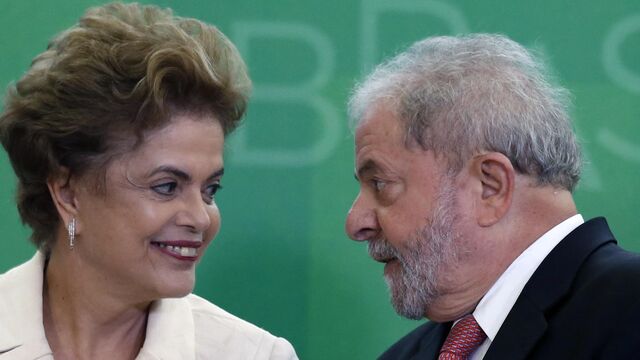 These days in Brazilian markets, any sign that President Dilma Rousseff is going to be impeached is enough to spark a frenzied buying spree by international investors. But hint that her ouster could be derailed, and foreigners are quick to run for cover.
It's a dynamic that leaves the players on the ground collectively scratching their heads.
"Foreign investors are trigger-happy -- they're ready to jump in and out depending on the latest news," said Marcelo Mello, who helps oversee 19 billion reais ($5.2 billion) in assets as chief executive officer of SulAmerica Investimentos in Sao Paulo. "Brazilians are more critical because they're seeing the crisis first hand and feeling its effects on a daily basis."
As locals like Mello sit on the sidelines, it's overseas money that's driving the euphoric highs and panicked lows that have turned the nation's markets into the world's most volatile. After the Ibovespa surged 16 percent in the first two weeks of the month, the index tumbled 5.1 percent Monday and Tuesday, then jumped 8 percent on Wednesday and Thursday. International investors poured 5.97 billion reais into stocks during the first half of the month, as Brazilian funds, companies and individuals yanked an equal amount out.

The flows highlight a key difference in how the two groups view Brazil's crisis. Investors monitoring the political drama from afar are betting a Rousseff impeachment could be the only way out of a months-long political quagmire, allowing lawmakers to shift their focus back to closing a crippling budget deficit and pulling Brazil out of its two-year slump.
But the folks watching the action up-close aren't so sure. The process of impeaching a president can be messy. And long. Meanwhile, Brazil's economy sinks deeper into its recession, fiscal accounts deteriorate and a corruption scandal that has left the business and political establishment in shambles shows no signs of abating.
"The biggest mistake markets are making is thinking that impeachment will give clarity one way or the other," said Christopher Garman, the half-Brazilian head of country analysis at political consulting company Eurasia Group in Washington. "The notion that a new government can easily turn the corner on this crisis is overstated."
That hasn't stopped overseas investors from riding the ups and downs of Brazil's political saga anyway. The country's benchmark equity gauge has flip-flopped between bear and bull markets four times in the past 18 months as the tug-of-war between the pessimists and the optimists plays out.
Credit Suisse Group AG joined the chorus of optimists on March 8 when its London-based analysts told equity investors it was time to jump back into the world's second-largest emerging market. At the time, Brazil stocks were in the midst of their best 10-day rally in seven years and the real was leading global gains as the graft investigation encroached on Rousseff's inner circle, fueling speculation it could pave the way for her removal.
A week later, markets were tumbling again as Rousseff plotted to fight off impeachment by naming a new minister: ex-President Luiz Inacio Lula da Silva, a man who remains popular among her base despite allegations of corruption. He denies any wrongdoing.
Within days, Rousseff's plan had backfired and her standing looked more precarious than ever. Investors switched course yet again. On Thursday, the real rallied the most in five months and stocks surged to their biggest gain since 2009. The real climbed 0.2 percent Friday as of 9:16 a.m. in New York, while the Ibovespa added 0.7 percent.
Before it's here, it's on the Bloomberg Terminal.
LEARN MORE