Valeant Seeks Lender List of Demands for Waiving Default
by and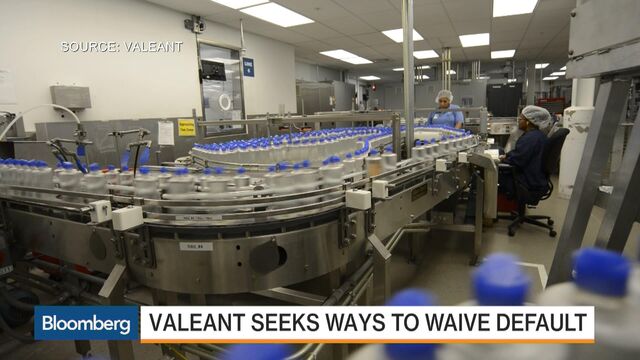 Valeant Pharmaceuticals International Inc.'s bankers have begun approaching some of its lenders to gauge what they'll want in return for waiving a default caused by its delayed earnings filing, according to people with knowledge of the matter.
Lenders may seek concessions including higher interest rates and faster paydown for some of its loans, said the people, who asked not to be identified because the information isn't public. Lenders are also expecting a one-time fee, the people said.
Valeant was required to file its 10-K annual report before Wednesday to avoid a technical default under its credit agreement, and failed to do so. That restricted the company from using its remaining credit line. On a call with investors on Tuesday, the drugmaker said it would begin working with lenders next week to amend the loan agreement so creditors can waive a default and give the company more time to submit financials.
Shares Battered
Valeant's $31 billion debt load has eclipsed its stock market value as the company's shares have been battered. On Tuesday, the company cut its 2016 guidance and held a conference call where it had to correct its earnings forecast issued just hours before. Its shares plunged 51 percent on the day and are down about 90 percent since their August high of $262.52. In recent months, the company has been questioned over its high drug prices, criticized by presidential candidates and investigated by Congress, and had to cut ties with a mail-order pharmacy that critics said it was using to inflate sales.
Representatives for Valeant and Barclays, the company's agent bank on the loans, declined to comment.
To revise the credit agreement, Valeant will need approval from more than 50 percent of the lenders on its loans and revolver, regulatory filings show.
Taking into account a 30-day grace period, the company has until April 29 to file its 10-K before lenders can demand accelerated repayment on the loans, the company said. Chief Executive Officer Michael Pearson said on the call Tuesday that Valeant hopes to file the results "sometime in April" but added that "I can't commit to that."
The company said that it had drawn down the bulk of its $1.5 billion revolving credit line before it missed the deadline to release its results, leaving it with $50 million of availability.
"Valeant's already weak credit profile, worse than any major drug company, is likely to be pressured further as profits and cash flow slump on falling revenue and costs which are rapidly escalating to defend expensive government probes and lawsuits," Vicki Bryan, an analyst at debt-research firm Gimme Credit, wrote in a report Friday.
Before it's here, it's on the Bloomberg Terminal.
LEARN MORE