Valeant Analysts Aren't Alone in Thinking `Sell' Is a Dirty Word
By
Analysts stick with falling stocks even after investors bail

95 percent of all stock-pickers have `buy' or `hold' rating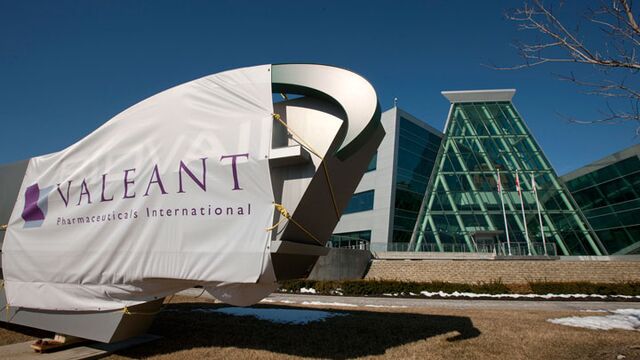 It's easy to pick on the Wall Street analysts who cover Valeant Pharmaceuticals International Inc. Many loved the stock on the way up -- and kept right on loving it on the way down.  
But the fact is, analysts in every industry rarely say "sell." Only about 5 percent of the ratings on 1,778 U.S. companies worth at least $1 billion are "sells" or the equivalent, according to data compiled by Bloomberg. For drug stocks like Valeant, that figure is even lower: 2.5 percent. 
"'Sell' is a four-letter word," said Lawrence Brown, an accounting professor at Temple University's Fox School of Business in Philadelphia.  
This week, as Valeant plunged again, Wall Street's years-long love affair with the company finally began to cool. On Wednesday, the day after the stock's worst day ever, 10 analysts lowered their ratings or price targets.
Valeant is far from an outlier in its industry. Analysts' median price targets for pharmaceutical companies are an average of about 53 percent higher than the actual stock prices even though shares of those companies have dropped almost a quarter since July 20. Only biotech stock-pickers had rosier outlooks, with consensus targets 68 percent above current prices.
Little Faith
"I don't put a lot of faith in biotech price targets," said Eric Schmidt, a biotech analyst at Cowen & Co. The firm's equity research team studied price targets for the biotech industry and found they had little to no predictive value. "They tend to be backwards-looking rather than forward-looking."
What can explain the stubborn persistence of optimism? Two things: saving face and access.
Analysts who've told their clients to buy seldom want to reverse themselves, especially when a public downgrade could affect the value of their holdings, said George Serafeim, a Harvard Business School professor. 
That's why price targets remain high even as the seven-year bull market shows signs of fatigue.
Upbeat guidance can mean golf and soirees with company executives, hosting them at investor conferences and being picked first to ask a question on quarterly conference calls.
"To have good relationship with management, the least offensive thing you can say is 'hold,' but really 'hold' means 'sell,'" Serafeim said.
Then there's the flip side. A neutral or negative recommendation can get an angry phone call from the C-suite, said Kennen MacKay, a biotech analyst at Credit Suisse Securities in New York.
"If you have a positive rating and wrong assumption, you might not hear about it from management," MacKay said. "If you have an underperform, the management will attack every assumption you have."

Stock-pickers in pharma and biotech aren't the only ones who can be guilty of an overabundance of optimism. Oil analysts face the same issues, said Fadel Gheit, an analyst at Oppenheimer & Co. and a former Mobil Oil Corp. executive.
"Analysts get polluted," he said. "Every CEO of a company wants to outdo each other and after you listen to four or five or six conference calls, you believe what you hear. When the CEO of a major oil company says that $100 oil is the floor, you should know that something is wrong." The U.S. oil price is now hovering around $40 a barrel.
In fact, the oil rout made industry analyst predictions the least accurate last year. On average, the median price targets 12 months ago were about double current prices.
'Incestuous Relationship'
Analysts are compromised from both sides, Gheit said. They get too close to company management and also feel pressure from their investment-bank employers who want business with the companies. 
"The analysts share the blame with oil companies because they basically have this incestuous relationship," he said. "Some of the questions on the conference calls from analysts, they are not questions, they are basically to glorify the company because everybody wants the next investment-banking deal."
Banking Clients
Gearing ratings not for the benefit of investors but to attract investment-banking clients and other business violates securities law.
During the dot-com bubble of the turn of the century, equity researchers such as Merrill Lynch's Henry Blodget were publishing "buy" calls on companies they were disparaging in private discussions. In 2003, the U.S. Securities and Exchange Commission banned Blodget from the securities industry.
In February, the SEC fined former Deutsche Bank AG analyst Charles Grom $100,000 after the agency said he publicly recommended buying shares in Big Lots Inc. while telling colleagues on the sales team otherwise. Grom neither admitted nor denied wrongdoing.
When Valeant Chief Executive Officer Michael Pearson returned late last month from a medical leave, the company canceled a conference call with analysts. Instead, he spoke privately with at least three stock-pickers -- Shibani Malhotra of Nomura Securities International, Umer Raffat of Evercore ISI, and Marc Goodman of UBS AG -- all of whom had "buy" ratings.
Valeant said it didn't improperly divulge material financial details in the calls and followed disclosure rules.
Reduced Ratings
On Wednesday, Malhotra reduced her rating on the shares to "neutral" and gave a 12-month price target of $60, down from $175. Raffat suspended his "buy" recommendation and $200 target, saying "this one has been nothing short of humbling for me." Goodman's buy rating is "under review."
David Amsellem of Piper Jaffray, who had a "neutral" rating on Valeant for more than four years before downgrading to underweight this week, said analysts' stock picks are only as good as the information they get from company executives.
"We have to, at a minimum, trust what management is telling us. We are at the mercy of the management team on a fundamental level," Amsellem said. "In order for markets to work, there has to be transparency and there has to be trust. Obviously you didn't have that here."