Trump, Elizabeth Warren Threaten U.S. Economy, Chamber CEO Says
by
Sees mistake in treating Warren as pope of anti-bank religion

Reduction in global trade could reduce U.S. clout, he says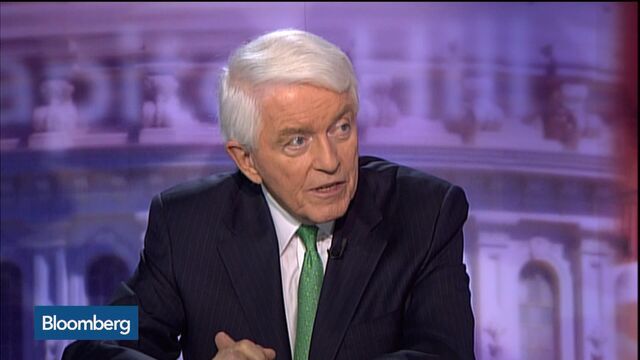 Lawmakers who support trade restrictions or tighter oversight of financial firms are putting short-term political gain ahead of what's best for the U.S. economy, the head of the U.S. Chamber of Commerce said, targeting Republican presidential candidate Donald Trump and Democratic Senator Elizabeth Warren for criticism.
"They look at the polls, they figure out it plays well, they listen to Elizabeth Warren, who is, all of a sudden, the pope in terms of what's acceptable in this religion," Chamber Chief Executive Officer Thomas Donohue said in an interview broadcast Friday on Bloomberg Television. "And we're making a fundamental mistake."
Trump, a real estate magnate, is among politicians benefiting from public ire among voters who feel that they are losing ground while Wall Street prospers and China gains economic clout. He has proposed tariffs on Chinese imports to protect U.S. manufacturers. Hillary Clinton, the former secretary of state who is seeking the Democratic nomination, has increased criticism of the North American Free Trade Agreement and the Trans-Pacific Partnership, even though she has spoken favorably of both in the past.
Donohue said exporters and also consumers benefit from international trade. Shoppers will wind up paying higher prices if tariffs are increased, he said, and U.S. manufacturers will face pressure selling their goods in global markets.
Geopolitical Strength
"We're going to become a less significant economic force, and when we become a less significant economic force, we're going to be a less significant force in geopolitics," Donohue said. "We don't want that."
Warren, of Massachusetts, built her popularity by criticizing Wall Street excesses after taxpayers bailed out banks that were hobbled by losses on mortgage bets. She said in December that Clinton was right to oppose "Wall Street giveaways."
Criticism of financial firms "seems to be a good political line that people, after a while, they begin to believe all this," Donohue said. "They've been badly treated by large financial institutions. How?"
He added that government leaders have a responsibility to "talk about the issues as they really understand them" and not be swayed by polls.
"It is incumbent on people that take major positions in our government to familiarize themselves with the facts and get off the rhetoric," Donohue said.
Before it's here, it's on the Bloomberg Terminal.
LEARN MORE