Tapes That Could Topple Rousseff Draw Fire on Brazil Judge
By
Moro questioned on decision to release private conversation

Protests broke in several cities after release of tapes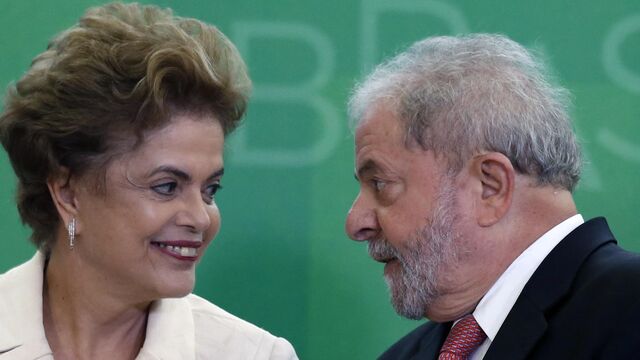 This week's bombshell in Brazil's sprawling corruption investigation came Wednesday as the country's citizens were going home after work: a taped 95-second conversation between embattled President Dilma Rousseff and her predecessor, made public just three hours after it took place.
The tapes, which critics say show Rousseff offering former President Luiz Inacio Lula da Silva a spot in her Cabinet to avoid prosecution, sent tens of thousands of protesters into the streets and prompted both Lula and Rousseff to talk about a "coup" against the government.
Yet Rousseff and Lula aren't the only figures in this storm. That list now includes Federal Judge Sergio Moro, a man hailed as a hero by millions of Brazilians but whose tactics have left even allies questioning whether he has gone too far. Moro's decision to release the president's private conversation, hours before his jurisdiction over the Lula investigation ended due to an alleged maneuver by the Palace -- Lula was granted special legal privileges after being nominated minister -- prompted legal experts to ask whether his prosecutorial zeal is now politically motivated.
"The audio couldn't be released by a federal judge," said Monica Caggiano, a constitutional specialist at Sao Paulo University. "The Supreme Court, the highest court in the country, is the one entitled to addressing matters involving the president."
The Rio de Janeiro branch of Brazil's bar association also said it viewed the release of the tapes, without consulting the Supreme Court, as illegal.
And Moro? The 43-year-old judge was unbowed. History shows that public opinion is needed to break systemic corruption cases like Brazil's current "Carwash" scandal, he said in the past. In a statement on Wednesday, he wrote that the people need to be aware of what rulers do "even when they try to act under the veil of shadows."
Inappropriate Work
Over the past two years, Moro's team has cast a bright light on those shadows. He has pressed charges against more than 170 people for crimes including corruption and money laundering. He was the first judge to send the chief executives of some of Brazil's most powerful and politically-connected companies to jail, as well as a senator, a former minister and a banker. Through the process he has managed to recover 2.9 billion reais ($792 million) in bribe payments, some hidden in Swiss accounts.
While Moro's case has been an unending headache for politicians and business leaders alike, questions over whether his actions were politically-motivated increased on March 4, when he authorized police to raid Lula's offices and homes and to briefly detain him for questioning. The former president hasn't been formally charged and denies any wrongdoing. Lula's lawyers and a former Supreme Court Justice said the moves were inappropriate.
A speech Moro made five days later at an event organized by an institute backed by opposition politicians also didn't help his image as an impartial judge.
Still, none of that has dented Moro's public standing. A Datafolha poll published March 13 showed 76 percent of the population backed him and 72 percent disapproved of Rousseff's government. Brazilians carried dolls representing Moro, as well as T-shirts showing him as Superman during protests that same day which drew millions to the streets. Rousseff and Lula, on the other hand, were represented wearing stripped jail uniforms.
Clean Hands
Moro's persistence dates back to 2004 when, as a little-known 31-year-old judge, he wrote a paper based on an Italian investigation into a scheme of kickbacks between politicians and entrepreneurs in Milan. The so-called Clean Hands case succeeded, he wrote, largely because it had the public opinion backing it.
"As long as it counts with the support of public opinion, it can move forward and have good results," he wrote. "If that doesn't happen, it will hardly succeed."
That may have been Moro's calculus when he saw the transcript of the 1:32 p.m. call between Rousseff and Lula. In it, Rousseff tells Lula she's sending a government worker over to see him "along with the document, so we have it, and use it only if we need to." She says the document "is for the swearing in."
An official announcement in the government gazette that Lula would be Rousseff's chief of staff was expected at any minute on Wednesday afternoon. With little time left, Moro made the transcript and dozens of others public at 4:21 p.m, with thousands of protesters taking to the streets soon after.
"The legal debate will only happen later, but his action created a very concrete political effect," Caggiano said.
The fury didn't stop Lula from being sworn in on Thursday, but that same day a different federal judge issued an injunction suspending the appointment. Rousseff's government is appealing.
In a court ruling about the wiretaps released Thursday morning, Moro said he was investigating Lula, not Rousseff, and cited the Watergate scandal in the U.S. as an inspiration. In 1974, the U.S. Supreme Court rejected Richard Nixon's claim to presidential privilege and ordered the release of taped conversations.
"Not even the supreme representative of the Republic has an absolute privilege to protect communications," he said.