Strategists Now See Virtually No Europe Stock Gains in 2016
by
Newest forecasts see weakest year since 2011 for region

Earnings won't be as strong as firms expected, economist says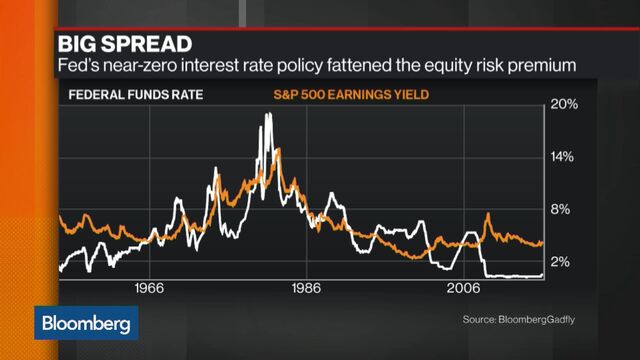 Strategists have slashed expectations for European stocks, painting the gloomiest annual outlook in five years.
Hit by one of the weakest earnings seasons in at least nine years, combined with waning faith in central banks, the Euro Stoxx 50 Index is expected to advance 1 percent for all of 2016. Only a few months ago, those same strategists were calling a 12 percent rally. The most dramatic about-face: Societe Generale SA, which cut its estimate from a 22 percent surge to a 0.5 percent decline.
"We're in an environment of fairly slow growth, and companies are finding they're not able to deliver the earnings growth they thought," said Peter Dixon, an economist at Commerzbank AG in London. "There are solid grounds for caution. It's going to be a long haul to get back to anything close to the year-end levels."

It was a rough start to the year -- worries about banks, oil, China's economy and U.S. rate policy sent European stocks to a 31-month low on Feb. 11. Even after a rebound, only energy and mining stocks from the broader region have erased losses for the year. Two-thirds of the Euro Stoxx 50 members are still trading below their Dec. 31 level. The gauge gained 0.6 percent on Friday.
At least 10 of 12 strategists surveyed by Bloomberg have lowered their 2016 forecast since December, cutting the average year-end projection for the Euro Stoxx 50 to 3,301 from 3,646. Back then, the most pessimistic call, that of Bankhaus Lampe KG, forecast a 6.2 percent gain.
The European Central Bank was expected to calm market jitters. Its decision last week to cut all three key rates and boost bond buying did little to spur a strong rebound.
"I remain highly skeptical in terms of the QE impact boosting the economy," Dixon said. "If it works at all -- and it has yet to prove the extent to which it works -- the effect will only be felt a long way down the track."
Morgan Stanley on March 13 advised investors to sell the recent rally, urging caution "given a weak macro and earnings backdrop." Credit Suisse Group AG analysts called European stocks a crowded trade in a March 11 report. Analysts expect profits for Euro Stoxx 50 members to grow by only 1.5 percent this year, down from 5.1 percent in December.
Still, allocation to European equities increased in March, according to a Bank of America Corp. survey of global fund managers. At 13.3 times its estimated earnings, the index is trading near its cheapest level in more than a year versus U.S. stocks, which have a valuation of 16.6.
"The catalyst will be the next round of earnings," said Patrick Spencer, equities vice chairman at Robert W. Baird & Co. in London. "Companies have cut costs so dramatically, you're going to see reasonable profitability on the bottom line. I expect more performance this year from European equities."

Others like Simon Wiersma from ING Bank NV are more cautious. Before he reviews his year-end targets, he wants to see oil trading between $35 and $50 for the next three to six months, along with a rebound in exports from Germany, one of Europe's main drivers, he said.
"Profitability needs to improve," and oil needs to stabilize, said Wiersma, an investment manager at ING Bank. "We need some type of confirmation."
Before it's here, it's on the Bloomberg Terminal.
LEARN MORE