Russia Extends Rate Pause to Fifth Meeting on Risks to Inflation
By , , and
Decision to hold was predicted by 35 of 42 surveyed economists

Inflation threats, budget uncertainty delay monetary easing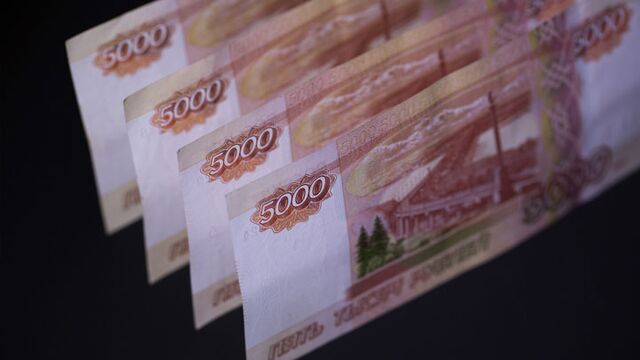 The intrigue is back in Russian monetary policy after the central bank kept its benchmark interest rate unchanged for a fifth meeting and warned that its "moderately tight" monetary policy may last longer than previously planned.
Policy makers declined to take a more dovish turn as they kept the one-week auction rate at 11 percent on Friday. While that came as no surprise to 35 of 42 economists in a Bloomberg survey, the rhetoric caught many off guard. Coming off a surprise warning in January that policy may be tightened if inflation risks intensify, Governor Elvira Nabiullina said the central bank now wants to avoid increasing borrowing costs, calling for a monetary stance that eschews "sharp moves" in either direction.
"Moderately tight monetary policy doesn't necessarily mean an increase and not necessarily keeping rates on hold," Nabiullina told reporters in Moscow after the decision. "If your actual inflation will be declining faster, then moderately tight policy will remain in place even with some decrease in rates."
A second year of recession and gains in oil and the currency aren't tipping the balance in favor of easing because inflation expectations remain stubbornly high while uncertainty continues to roil commodity markets. Looking past the ruble's rally of 11 percent since the last meeting, the central bank moved to what Goldman Sachs Group Inc. called a "neutral stance" after removing the tightening bias of its January statement.
"The Russian central bank continues to seem quite willing to err on the conservative side," Goldman Sachs analysts Clemens Grafe and Andrew Matheny said in a report.

Longer Hold?
With oil prices having partially recovered after dipping below $30 a barrel this year, the ruble has also advanced from January's all-time low. It's gained about 20 percent against the U.S. dollar since then, remaining one of the world's most volatile currencies, data compiled by Bloomberg show.
"The central bank has become much more consistent in its policy by not yielding to the euphoria of ruble strengthening," said Yury Tulinov, head of research at Societe Generale SA's unit Rosbank PJSC in Moscow.
Ruble, Oil
The ruble traded little changed at 68.1830 versus the dollar at 7:57 p.m. in Moscow after weakening as much as 0.9 percent before the rate decision. The yield on five-year government bonds declined nine basis points to 9.11 percent, headed for a 30 basis point reduction in the week. Brent crude increased 17 cents to $41.71 a barrel.
The Bank of Russia's baseline scenario assumes Russia's main export blend Urals will average $30 in 2016, rising gradually to $40 by 2018.
"Despite a certain stabilization in financial and commodity markets and a slowdown in inflation, inflation risks remain high," policy makers said in their statement. With Russian lenders showing less demand for the central bank's refinancing, "we see a softening of monetary conditions, impacted by reduced structural deficit of liquidity, even if the key rate is unchanged."
While price growth has slowed for six months, it's still more than twice the bank's medium-term target of 4 percent. Inflation will be less than 6 percent a year from now, although "risks remain" that the rate may exceed its goal in late 2017, the central bank said on Friday.
Steely Voice
"You can sense the steel in Nabiullina's voice," said Anton Tabakh, the chief economist at Moscow-based credit assessor RusRatings. "With this statement the central bank reiterated that its monetary policy is correct, and it won't budge."
The central bank said the economy's adjustment to low commodity prices will continue, with gross domestic product forecast to shrink 1.3 percent to 1.5 percent this year. On a quarterly basis, GDP will resume growth between late 2016 and early next year, it said. The economy contracted 3.7 percent last year.
The outlook for this year was worsened in the central bank's updated forecasts issued after the rate meeting. Last quarter, GDP probably declined as much as 2.5 percent from a year earlier, it estimates.
"The moment was appropriate for a rate cut," said Olga Sterina, an analyst at UralSib Capital in Moscow. "The rate at 11 percent seems high with such a weak economic performance and slowing inflation."