Valeant Isn't Going Broke, CEO Pearson Reassures Staff
by
CEO sends memo to employees one day after shares plunged 51%

`Restoring the public's confidence will take time,' he says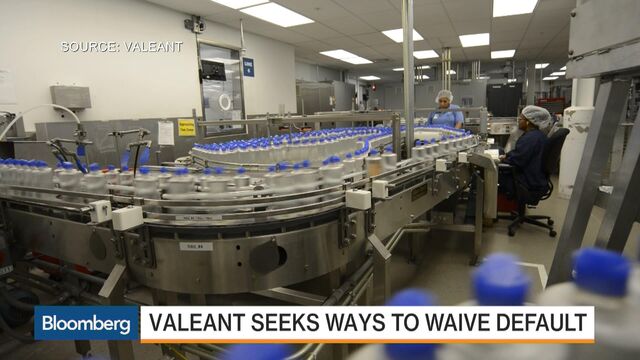 Valeant Pharmaceuticals International Inc.'s embattled Chief Executive Officer Mike Pearson took a step to reassure his employees on Wednesday, saying in a memo to workers that the company won't go bankrupt and apologizing for the recent turmoil.
The drugmaker's shares plunged 51 percent on Tuesday after Valeant cut its 2016 forecast, reported weak preliminary fourth-quarter financial results and said it risked breaching some of its debt agreements if it can't file its annual report in time. Pearson, who apologized for the company's missteps during a two-hour conference call with analysts on Tuesday, had just returned from a two-month medical leave.

Responding to concerns raised by employees that the company was on the verge of bankruptcy, he said "I can assure you we are not," according to the e-mailed memo to employees viewed by Bloomberg News. At issue is the delayed filing of Valeant's 10-K annual report to the U.S. Securities and Exchange Commission. Missing that deadline can result in a default on some of the company's bonds and loans.
"This is a matter we are taking very seriously," he said in the note. "We are working to extend the deadlines in our loan agreements, and I am confident we will be able to do so."
Valeant spokeswoman Laurie Little declined to comment.
Slower Growth
Pearson said the Laval, Quebec-based company is forecasting lower growth for some of its businesses, including U.S. dermatology, gastrointestinal and women's health, as a result of pressures from managed care, which typically refers to pharmacy benefit managers and major insurers. He also cited the pricing environment and a "slower-than-expected start to 2016." 
Valeant shares fell 0.5 percent to $29.46 at 9:46 a.m. in New York Friday. Through Thursday, the stock had declined 89 percent since its Aug. 5 peak of $262.52.
"Restoring the public's confidence will take time and I want to apologize directly to each of you for the distractions this intense scrutiny is causing you," he said in the memo. "Please know that I am working as hard as I can to turn things around, and I believe we will."
Price Hikes
Valeant developed a reputation for making aggressive price hikes on its drugs, a strategy that has come under scrutiny and resulted in the company's management testifying before Congress this year. A survey for Bloomberg News found 13 Valeant drugs in the U.S. that have at least doubled in price since December 2014, more than any other large company.
Valeant is moving to a new distribution model after it said in October that it would end its relationship with mail-order pharmacy Philidor Rx Services. That followed reports of tactics that Philidor allegedly used to gain more insurance reimbursements for Valeant medicines. Valeant reached an agreement with Walgreens Boots Alliance Inc. in December to sell skin and eye medications through the drugstore chain.
Pearson said the overall business is growing, adding that the Walgreens program is off to a "terrific" start. He also said contact lenses, oral health, oncology, generics and some emerging markets were showing positive results. And for businesses with a slow start in 2016 -- such as prescription ophthalmology, Solta and Obagi -- he said he's confident they can get "back on track" this year.
Before it's here, it's on the Bloomberg Terminal.
LEARN MORE