Monkeys, Sun and Fish & Chips: The Rock That Fears a `Brexit'
by
Gibraltarians worry they will be cut off if U.K. leaves EU

Sovereignty may come under threat, chief minister says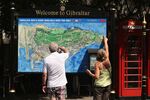 From the sun-scorched tip of Spain, Charles Catania has a message for British voters as they make up their minds whether to remain in the European Union.
QuickTake Will Britain Leave the EU?
"People in the U.K. need to think of it from our perspective," said the 62-year old pensioner. "They are an island surrounded by friends. Our situation is different."
Like two family generations before him, Catania is one of the 33,000 inhabitants of Gibraltar, a British overseas enclave for more than three centuries and disputed by Spain for much of it. Dependent on an open border for trade and labor, few places can be as keen to remain in the European single market as what's known as the Rock.
With more than three months until the June 23 vote, talk of the potential consequences of "Brexit" is already dominating, whether on local GBC television and radio, in the Gibraltar Chronicle newspaper or down the pub.
Isolation Risk

It's not difficult to see why. First there are the economics of essentially what is a limestone promontory facing North Africa a little more than a 10th of the size of Manhattan.

Then there's the politics of being effectively surrounded by a country that claims territorial rights over you. First ruled by Arabs, it was conquered by the Spanish Catholic monarchs before being taken over by the British in 1713.
"The innate feeling is that we want to stay," Fabian Picardo, Gibraltar's chief minister and an Oxford University contemporary of British Prime Minister David Cameron, said in an interview at his office at No. 6 Convent Place. "For a long time Gibraltar has seen the EU as the potential solution to the perennial issue that Spain raises about the sovereignty."
If you ignore the heat, sunshine and the monkeys that roam the Rock, Gibraltar is quintessentially British on the surface thanks to its red phone boxes, fish-and-chip restaurants and chain stores familiar on any high street in England.
Melting Pot
Dig deeper and the peninsula gets more distinctive, a blend of traditions and nationalities reflected in Llanito, a dialect that sounds like it switches back and forth from English to Spanish. Gibraltar just started entering its own soccer team in European competitions.
Over the past decade, the economy has more than tripled, driven by a surge in online gaming companies and financial services attracted by its low tax regime. There's also tourism, with Gibraltar connected by six British airports and none in Spain.
It also means the Rock is dependent on imports and the more than 9,400 workers who cross the border on a daily basis mainly to take up their jobs in hotels, restaurants and companies.
The implications of losing access to the common market and potential shortages of workers are already weighing on local businesses, said Edward Macquisten, chief executive of the Gibraltar Chamber of Commerce.
"The uncertainty 'Brexit' would generate is bad for businesses here, no question," he said in an interview this month. "We import everything, we manufacture nothing. We depend very much on trading with other jurisdictions, in particular Europe."
Spanish Workers
Across the fence in Spain, workers say a Britain outside the EU would be problematic for them too. They mainly come from the province of Cadiz in Andalusia. It has the highest unemployment rate in Spain, hovering around 30 percent.
Waiting to catch a bus to cross the border after a day's work in Gibraltar, Spanish cleaner Carmen Fernandez was a teenager when General Francisco Franco shut down the border in 1969. Just like back then, she doesn't like talking about politics, but she's definitely concerned about her job.
"I come here, work and go back home: No problem, we all get along, we respect each other," she said. "I remember when the border was closed. How's that good for us?"
Being an hour ahead of the U.K. in the same time zone as Spain, polls will open and close in Gibraltar first. While current polling suggests the result is too close to call, for accountant Ian Mackie, it's a no-brainer.
"Geographically, we're in continental Europe, there is no point in setting up borders," said the 56-year-old Glaswegian, who moved to the Rock in 2003. "I'm not saying the current system is perfect, but it's not entirely broken either, so why? I just don't see what's in it for Gibraltar."
Before it's here, it's on the Bloomberg Terminal.
LEARN MORE