Ford Boosts CEO's Pay 17% as SUV Surge Yields Record Profit
By
Increase comes despite a 9.1 percent slide in stock price

Investors wary of U.S. peak after industry's record year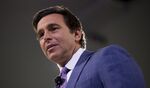 Ford Motor Co. increased Chief Executive Officer Mark Fields's 2015 compensation 17 percent to $17.3 million, excluding changes in pension value, as the automaker posted record profit on surging sales of sport utility vehicles.
Fields, 55, in his first full year as CEO, received $1.75 million in salary, $3.46 million in bonus and $13.36 million in stock and other compensation, for a total of $18.6 million, the company said Friday in a regulatory filing. Excluding a change in pension values, which fluctuate year to year, and other compensation for perquisites such as traveling on corporate aircraft, his total for last year grew from $14.8 million in 2014.
Fields rolled out the aluminum-bodied F-150 pickup last year, negotiated a new four-year contract with the United Auto Workers and capitalized on falling fuel prices by pushing out more SUVs. Yet Ford's share price fell 9.1 percent amid investor concerns that the good times may soon be over as the U.S. auto expansion peaks and earnings come under pressure. Fields reinforced those fears in January, telling analysts that Ford's operating profit margin in North America, its largest market, may decline this year as costs rise.
"Times are good, so if you're going to pay a CEO well, this is when you're going to do it," said David Whiston, a Morningstar Inc. analyst in Chicago who rates the shares the equivalent of buy with a "fair value" price of $18. "Eventually, the market will catch up to the improvements and operational excellence that he's driving. When that's going to happen, I have no idea, unfortunately."
Top executives reached 99 percent of the targets set for them by Ford's board, according to the proxy statement. That included zero percent for automotive revenue, 121 percent for automotive operating margin, 142 percent for automotive operating cash flow, 106 percent for Ford Credit pretax profit and 118 percent for quality.

Ford shares rose 1.5 percent to $13.67 at 9:41 a.m. in New York. The stock declined 22 percent from the July 1, 2014, start of Fields's tenure as CEO through yesterday's close, as the Standard & Poor's 500 Index rose 4.1 percent.
The automaker posted 2015 pretax profit of $10.8 billion, the most in the company's 112-year history. Ford sold 780,354 F-Series pickups in the U.S., making it the nation's top-selling vehicle for the 34th straight year, and introduced redesigned versions of the Edge and Escape crossover SUVs. The Dearborn, Michigan-based company's SUV deliveries climbed 7.8 percent in the U.S. for the year and its truck sales jumped 8.7 percent.
"Their timing to do some new crossovers last summer was excellent," Whiston said. "A cynic would say it was luck. Either way, management gets credit."
Profits rose in North America, Asia and Europe, while plunging in South America, where economic turmoil shows no signs of abating. Last year, Ford debuted its revamped Lincoln luxury line in China, which Fields has said could become the brand's largest market.
"I like their product lineup a lot," Whiston said. "And I like the direction Lincoln is going."
Ford declared a special dividend of $1 billion in January, while forecasting a 2016 North American operating profit margin of 9.5 percent or higher. Last year, Ford's margin in the region was 10.2 percent.

Executive Chairman Bill Ford received total compensation of $12.9 million for 2015, compared to $15.6 million in 2014. Excluding pension values and other compensation, Ford's compensation rose 1.6 percent to $10.1 million, from $9.9 million in 2014. For last year, the 58-year-old great-grandson of founder Henry Ford got $2 million in salary, $990,000 in bonus and $9.87 million in stock and other compensation.
Ford didn't grant stock options this year, following a trend among its key competitors and other companies of instead awarding some compensation in restricted shares. One-quarter of the stock awards to Ford's top executives came in restricted shares that pay out over three years.
The company scheduled its annual meeting for May 12 in Wilmington, Delaware. Shareholders for the 12th consecutive year will consider a proposal to strip the Ford family of its 40 percent voting control of the automaker and move to one vote per share. The measure is opposed by Ford's board, which includes two family members, Bill Ford and his cousin Edsel Ford II.