Ferguson Starbucks Shows Schultz Undeterred by Racial Misstep
by and
Coffee shop near riot site will spur investment, officials say

Company says new stores in poor areas will be profitable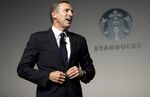 Ferguson, Missouri, the scene of riots in 2014 over the fatal police shooting of a black teenager, will gets its first Starbucks next month, a sign Chief Executive Officer Howard Schultz isn't backing down from his commitment to improve race relations.
A year ago this week, the 62-year-old coffee guru ignited an Internet firestorm when he asked baristas to write "Race Together" on paper and plastic cups. It was supposed to get customers talking about racial issues after demonstrations broke out across the U.S. over the police killing of unarmed black men, including 18-year-old Michael Brown of Ferguson. Instead, it was blasted on social media as a clumsy and superficial attempt to discuss a serious issue.

The Ferguson store is one of at least 15 units that Starbucks Corp. plans to open in poor urban neighborhoods as part of a diversity program aimed at improving the lives of minority residents. Other areas targeted include Jamaica, Queens, in New York; the Englewood section of Chicago's South Side; and Milwaukee.
"You couldn't turn on the news media without seeing what was going on, and it troubled Howard," said Vivek Varma, who spearheads Starbucks' efforts on race and other social topics. He said the cup fiasco was a valuable lesson.
"Any time we take on an issue like this, we know there is risk," he said. "The lack of understanding about all of the things, and the thoughtfulness with which we were trying to bring this into the public was lost. That was a learning for us."
Schultz declined to comment for this article.
Urban Focus
At least five of the Starbucks stores in urban areas are expected to begin operating in 2016. The company says the jobs created will help achieve a goal of hiring 10,000 young people who face barriers to meaningful jobs and quality education.

When it comes to race, Schultz isn't the only CEO taking action. Starbucks is part of a coalition of more than a dozen companies -- including Hilton Worldwide Holdings Inc., JPMorgan Chase & Co. and Macy's Inc. -- that are using apprenticeships, training and job fairs in an effort to hire 100,000 disadvantaged young people by 2018.  So far, 20,000 have been hired, according to Varma.
In the technology industry, the lack of minority workers has prompted Amazon.com Inc., Apple Inc. and other companies to be more transparent about hiring and set goals to improve. In 2014, Google Inc. became the first technology company to report its ethnic and gender makeup, prompting similar moves by its peers.
Rallying Point
The new Starbucks in Ferguson is already a rallying point for more investment, said Dan Bish, community development coordinator for the city, which is northwest of St. Louis and has a mostly black population of 21,000. Health-care company Centene Corp. built three new buildings on the site of a used-car lot that will employ 200 people, while McDonald's Corp. and Burger King have both done full refurbishments of their Ferguson stores, Bish said.
"Starbucks was a huge get for us," he said. "They are helping spur investment along the entire corridor. We're saying, 'They're willing to invest in us. You should invest in us too."'
In addition to the store, which will employ about 25 to 30 full- and part-time workers, Starbucks hired a local cake company to provide desserts for all of its St. Louis-area stores and tapped a Ferguson resident to manage the new unit, Bish said.
Cheaper Land
Investors needn't be worried that Starbucks is focused on philanthropy at the expense of its bottom line, said Varma, the Starbucks official. The Ferguson unit -- as well as the others opening in poor urban areas -- will be profitable, he said. One reason: Cheaper land is helping cut costs, he said.
Starbucks stock has outperformed its peers in the past year, rising 26 percent through Thursday, compared with a 1.6 percent loss for the Standard & Poor's 500 Index.
More than 40 percent of Starbucks' U.S. workforce are minorities, along with about 28 percent of store managers and 18 percent of senior leadership. The U.S. population is about 77 percent white and 13 percent black, according to the U.S. Census.
Starbucks' Ferguson store is an indication of broader support among business leaders to take concrete action to improve black lives, said Ron Parker, CEO of the Executive Leadership Council, a national organization. The group, which includes more than 600 current and former black CEOs, directors and other leaders, advocates promotion of black executives.
"The most tangible signal of hope," he said, "is an investment of bricks and mortar."
Before it's here, it's on the Bloomberg Terminal.
LEARN MORE