EU Agrees to Plan With Turkey to Stem Refugee Flow, Officials Say
by and
Turkish Prime Minister agreed to provisional deal earlier

Leaders meeting in Brussels to hammer out details of agreement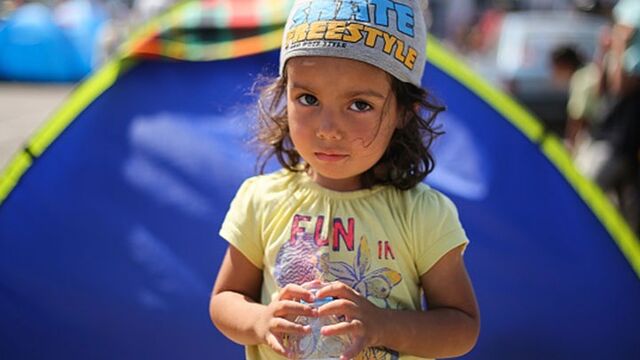 European Union leaders agreed to a plan with Turkey that would curb migration flows across the Aegean Sea into Greece in exchange for trying to accelerate Turkey's path to membership in the bloc.
"Turkey -- deal was accepted,"  Juha Sipila, prime minister of Finland, posted on Twitter.
Earlier on Friday, EU President Donald Tusk reached an agreement with Turkish Prime Minister Ahmet Davutoglu on the outline of the deal, according to two officials, who asked not to be identified because the negotiations were private. The agreement, which includes only minor changes from a previous text, still needs to be formally accepted by Davutoglu, according to one of the officials. If he does, the pact would take effect March 20.
The new proposal won't enforce the collective expulsion of migrants to comply with EU and international law, according to one official. In exchange, Turkey will stem the flow of refugees from its shores to Greece, the first landing point for many migrants seeking to relocate to Europe.
"The EU and Turkey, we have the same goal, the same objective: to help Syrian refugees," Davutoglu told reporters as he entered a meeting earlier Friday. "I hope we will be achieving our goal to help all the refugees as well as to deepen Turkish-EU relations."
Sea Passage
Both sides are seeking to overcome legal and practical obstacles to stop the biggest refugee wave since World War II. From the first trickle of refugees across the central Mediterranean Sea after the Arab revolutions of 2011 to the mass exodus from Syria via Turkey and the Balkans, European crisis management has been condemned to playing permanent catchup.
Some 857,000 people made it across the Aegean Sea to Greece in 2015. Since the March 7 EU-Turkey summit, close to 11,000 have come ashore on the Greek islands, bringing the total on that route to 144,000 so far this year. At least 96 have died trying, the United Nations says.
The EU offer would cover a fraction of the 2.7 million Syrians who have fled to Turkey. Its credibility is open to question after EU governments failed to live up to earlier refugee-resettlement commitments.
The idea is to scare refugees away from the hazardous sea passage and reward those who file legal applications from Turkey. However, concern mounted that enterprising traffickers would divert to other routes, perhaps through the Adriatic Sea to Italy.
Before it's here, it's on the Bloomberg Terminal.
LEARN MORE