China's Gambia Move Reminds Tsai of Power to Isolate Taiwan
Bloomberg News
New ties with island's ex-ally put pressure on president-elect

Beijing wants DPP leader to embrace negotiating framework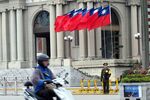 China's diplomatic embrace of the tiny nation of Gambia -- one of the few states that had recognized Taiwan -- places new pressure on President-elect Tsai Ing-wen to clarify her position on talks with Beijing before she takes office in May.
China formally re-established relations with Gambia on Thursday, more than two years after the West African state severed ties with Taiwan and expressed a willingness to form a bond with the world's second-largest economy. The move sends a warning to Tsai that Beijing has the power to increase the island's diplomatic isolation should the Democratic Progressive Party chairwoman refuse to accept the same negotiating framework as the outgoing president, Ma Ying-jeou, of the Kuomintang.
"This is a clear message to Tsai Ing-wen to get her to be clear about her stance," said Sun Xiaoying, deputy director of the Taiwan Research Center at he Chinese Academy of Social Sciences in Guangxi. "The Gambia case is the first, but won't be the last. Many countries that have relations with Taiwan have expressed good will to Beijing to establish diplomatic ties, but Beijing didn't accept their proposals to respect Ma."
The Communist Party has been ramping up pressure on Tsai since she led the DPP to a landslide election victory in January, calling into question relations that have prospered during Ma's eight-year tenure. While Tsai has pledged to maintain the "status quo" with the mainland, her party's charter officially supports independence from China and she has so far declined to endorse the so-called 1992 consensus that has underpinned talks between the two sides.

Beijing still considers the island a province more than 66 years after the Chiang Kai-shek led KMT forces across the Taiwan Strait, and in 2005 passed a law allowing an attack to prevent independence. Under the "1992" framework, the Communist Party and the KMT have agreed that there's only one China, even if they differ on what that means.
'Diplomatic Competition'
During Ma's time in office, Beijing refrained from wooing away any of Taiwan's diplomatic partners. Both Ma and the DPP criticized the Gambia move. The country's departure in November 2013 left Taiwan with 22, mostly small states, as formal diplomatic partners, including the Holy See.
"There's no need to get into a diplomatic competition with China, and there's no need to do things that hurt the feelings of the people," Tsai said Friday, according to a DPP statement. "This isn't helpful to the normal development of cross-strait relations. Hopefully, the establishment of ties with Gambia isn't a targeted move."
During annual legislative meetings in Beijing this month, both President Xi Jinping and Premier Li Keqiang stressed the necessity of the 1992 consensus and vowed to oppose any moves toward independence. Sun Yafu, vice chairman of the mainland's Association of Relations Across the Taiwan Strait, told Bloomberg News on March 3 that Tsai could only get Beijing's support if she expressed agreement with the "one China" concept in her May 20 inaugural speech.
Economic Instruments
Ma was asked about the Gambia move Thursday during a visit to Belize, another of Taiwan's diplomatic partners. "It occurred at a time which we see as very inappropriate, and we have to voice our strong dissatisfaction," he told reporters, according to the island's Central News Agency.
Years of strengthening trade ties have given Beijing a broad range of economic instruments to show its disapproval of Taiwanese policies, including curbing the number of mainland tourists visiting Taiwan.
"It was Gambia that proposed to restore diplomatic ties with China, and there was no prerequisite attached," Chinese Foreign Ministry spokesman Lu Kang said in a statement Friday. "The Gambia leadership has realized that restoring diplomatic relations with China is in the interests of the Gambian people, therefore this right decision was made."
— With assistance by Ting Shi, and Keith Zhai
Before it's here, it's on the Bloomberg Terminal.
LEARN MORE