China February Home Prices Rise as Major Cities Power Ahead
Bloomberg News
Prices climbed in 47 cities in February, 38 in prior month

Real estate investments picked up following strong sales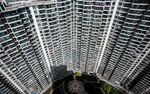 The recovery in China's property market accelerated, with prices rising in the most cities since March 2014, led by gains in major hubs after banks eased credit and the government loosed curbs.
New-home prices gained in 47 cities in February, compared with 38 in January, the National Bureau of Statistics said Friday. They dropped in 15 cities, compared with 24 in the prior month, and were unchanged in eight cities.
China's efforts to clear a home glut are bearing fruit. Investment in real estate development reversed a two-year downward streak in the first two months, with sales accelerating to 3 percent compared with a 1 percent increase throughout 2015. The value of property sales in January and February surged 43.6 percent from a year earlier, while property sales in some mid-sized cities doubled.
While the official data are strong, there are still "large uncertainties" surrounding a nationwide recovery as the price rallies in first-tier cities are "not sustainable given the heavy speculative mood," said Zhao Yang, chief China economist at Nomura Holdings Inc. in Hong Kong. Zhao forecasts a decline in full-year real estate investment.
Smaller Cities
Prices in the third-tier cities the government monitors gained month-on-month for the first time in 23 months, increasing 0.1 percent, according to Nomura calculations based on the official data. "The third-tier cities monitored are large- or mid-sized ones," Zhao said. "If you raise the sample to the whole country, prices in the majority of third-tier cities are still weak."
Prices gained in 61 cities in February among the 100 tracked by SouFun Holdings Ltd., the owner of China's biggest property website, compared with gains in 60 cities in the prior month. Average new-home prices accelerated, rising 0.6 percent last month from January, according to SouFun.
The housing boom in Shenzhen, a southern business hub that borders Hong Kong, showed no sign of abating, with prices jumping 3.5 percent from a month earlier, the biggest month-on-month advance among the 70 cities and leading to a 57 percent jump from a year earlier. Prices in Shanghai increased 2.4 percent and were up 21 percent over the past year. They rose 2.1 percent in Beijing, for a 13 percent increase from a year earlier, and 1.6 percent in Guangzhou, taking the year-on-year gain to 12 percent.
'Overheated' Shanghai
The surge in home prices in first-tier cities, which Shanghai's top official described as "overheated," have prompted local authorities to discuss ways to cool the housing market and the central bank to stress mortgage risks, people familiar with the matter said this month. A central bank deputy governor said this month loans from developers, real estate agents and peer-to-peer lenders have raised homebuyers' leverage, undermined the effectiveness of macro policies, and increased risks to the financial system and property markets.
Despite slower home sales in a majority of cities during the Lunar New Year period, known as the Spring Festival, home prices nationwide advanced at a quicker pace, driving the divergence between regions "increasingly wider," the bureau's senior statistician, Liu Jianwei, said in a statement on the agency's website. Price gains in first-tier and some key second-tier cities far exceeded those elsewhere, Liu said.
Cutting Taxes
China's Ministry of Finance cut deed and business taxes on home transactions last month before the Lunar New Year, a move intended to prop up home buying in a traditionally slow month for sales, according to Du Jinsong, a Hong Kong-based analyst at Credit Suisse Group AG. The world's second-largest economy shuts down for a week, while workers return to their home villages during China's most important family holiday.
Investors shouldn't confuse the "red-hot" sales in first-tier cities with the overall picture, as prices are only "stable" in the majority of cities prices and are still falling in some, said Alan Jin, a Hong-Kong based analyst at Mizuho Securities Asia Ltd. Supportive housing policies at the national level should remain in place, Jin said.
Down-payment Loans
The government started to crack down on shadow lending for home down payments, a phenomenon all but unheard of a year ago, in large cities. New rules being drafted by the central bank, the China Banking Regulatory Commission and other bodies would bar developers, peer-to-peer networks and other non-banks from offering down-payment loans, people familiar with the matter said this month.
"All the official responses, including adding supply and clamping down on unregulated financial institutions, would help to weaken market sentiment," said Nomura's Zhao. "If the prices in top cities abate or even begin to drop, it would come as a bellwether for the rest of the cities."
Existing-home prices increased last month in 34 cities, compared to 37 in January. They declined in 28 cities and were unchanged in eight. Year-on-year, prices rose in 32 cities, seven more than in January, and dropped in 37 cities.
— With assistance by Emma Dong
Before it's here, it's on the Bloomberg Terminal.
LEARN MORE