Brazil's Central Bank Shifts Currency Policy After Real's Surge
Filipe Pacheco and Paula Sambo
Bank to auction up to 20,000 reverse-swap contracts Monday

Real is the best-performing currency in the world this year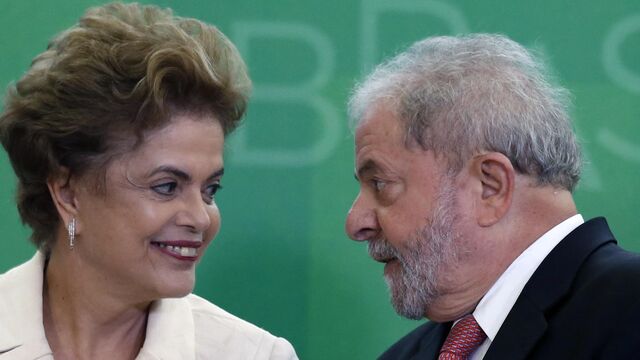 Brazil is moving closer to unwinding a measure designed to shore up the nation's currency as speculation President Dilma Rousseff will be impeached sparks a rally in the real.
On Friday, the central bank said it will offer up to 20,000 foreign-exchange reverse swap contracts, which are equivalent to buying dollars in the futures market. The auction, which will take place Monday, will be the first since March 2013 and mark a turnaround of Brazil's policy of using the swaps to help bolster the real.
The shift comes as the growing push to oust Rousseff helps make the real the best-performing currency in the world this year. The tender has soared 9.4 percent against the dollar, part of a surge in Brazilian assets fueled by bets the president's departure would lead to a new government that can pull the country out of its deepest recession in more than a century. While the real pared its advance Friday amid speculation Brazil would change its currency policy, more gains are likely going forward, said Leonardo Monoli, a partner at Jive Asset Gestao de Recursos in Sao Paulo.
"The dollar should keep its downward trajectory with the possibility of Rousseff and her party being ousted," he said from Sao Paulo.
The real gained 0.1 percent to 3.6242 per dollar Friday, after advancing as much as 1.5 percent earlier.
On Thursday, Brazil's central bank said it saw room to partially unwind its swaps program. It has used the contracts to provide local investors and companies with a way of hedging against a sharp decline in the currency. The real sank 33 percent last year as Brazil lost its investment-grade rating and inflation accelerated to more than 10 percent. 
Analysts still forecast the real will fall 14 percent by the end of 2016, the most pessimistic projection for any of the world's 16 most-traded currencies.
Brazil's real extended gains this month as Rousseff's decision to name former President Luiz Inacio Lula da Silva to her Cabinet ratcheted up opposition to her government. The move was seen as an attempt to shield her predecessor from prosecution in Brazil's biggest-ever corruption probe.
Before it's here, it's on the Bloomberg Terminal.
LEARN MORE