Brazil Impeachment Picks Up Amid Protests and Legal Battles
by , , and
Impeachment could be voted in April, lower house chief says

Protesters march for and against Rousseff throughout country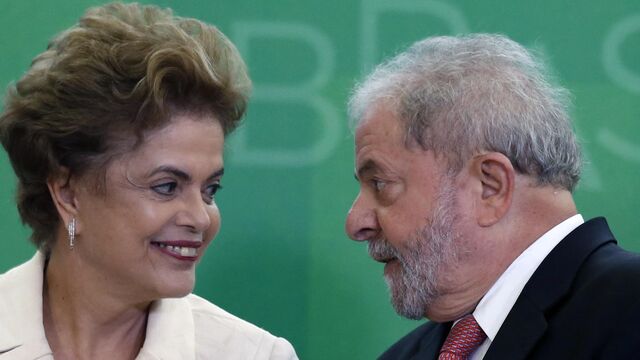 Brazilian lawmakers are accelerating impeachment proceedings against President Dilma Rousseff as protests resume and legal battles continue over her newly-appointed chief of staff.
The lower house could vote on whether to impeach Rousseff in about a month, speaker Eduardo Cunha told reporters in Brasilia, reducing his previous forecast of 45 days. "If we have quorum during all working days, we can vote in the weeks of April 20 or April 27," he said.
Throughout the day, judges alternately decided to block and allow the appointment of Luiz Inacio Lula da Silva as Rousseff's chief of staff, creating a legal quagmire for him and the president.
Supreme Court Justice Gilmar Mendes on Friday night issued an injunction suspending Lula's appointment and returning a probe into the former president to federal Judge Sergio Moro. Mendes justified his decision, saying that Rousseff appointed Lula chief of staff to shield him from a corruption probe, as he could have been arrested and indicted on criminal charges. Mendes's ruling can be overturned by a session of the full Supreme Court.
The Lula Institute and Rousseff's press office did not comment.
Further revelations that Lula had attempted to get government officials to help shield him from a corruption probe prompted a public outcry and renewed protests.
"Growing unrest is likely to accelerate the shift against President Rousseff in Congress," Neil Shearing, chief emerging market economist with Capital Economics, wrote in a note to clients. "Her term in office looks increasingly likely to be curtailed."
Rousseff said her government respects the courts but that the judicial system "can't be politicized." She lambasted Judge Moro's decision to release phone recordings that critics say show she appointed Lula to shield him from a corruption probe.
Popular Outrage
According to Brazilian legislation, only the Supreme Court can probe, indict or imprison presidents and cabinet members.
"In other places of the world, anyone who wiretaps a president goes to jail unless they have authorization from the Supreme Court," Rousseff said at an event in the state of Bahia.
The release of that phone conversation, as well as dozens of others held by Lula with allies, fueled popular outrage that added to anti-government protests over the past few days.
Critics though were not the only ones taking to streets. Government supporters have promised to fight back and staged several smaller demonstrations on Friday. About 130,000 people marched in at least 19 states, according to local media and police estimates.
The largest demonstration took place in the city of Sao Paulo early Friday evening, where Lula himself joined the rally and told cheering crowds that "Rousseff is suffering a coup attempt." Some 80,000 supporters dressed in red and white, the colors of his and Rousseff's Workers' Party, blocked the city's main thoroughfare, Avenida Paulista, chanting "there will be no coup!" Just five days earlier, almost half a million people marched on the same avenue asking for Rousseff's resignation and the end of corruption.
"The polarization is increasing day-to-day in the street, in Congress, everywhere," Andre Cesar, a political analyst and founder of consulting company Hold Assessoria Legislativa, said by phone from Brasilia.
Before it's here, it's on the Bloomberg Terminal.
LEARN MORE