BOJ Minutes Show No Talk of More QQE Before Minus Rate Vote
by
Bank staff proposed more asset buys or negative rate options

BOJ voted 5-4 on rate, one opponent of policy is leaving board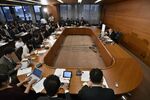 At the January meeting where the Bank of Japan surprised markets by adopting a negative rate, the bank's staff offered another option - expanding record asset purchases, but the minutes show no discussion of that.
Board members did discuss the negative rate proposal in great detail before adopting the rate of minus 0.1 percent, which is charged on some of the reserves that financial institutions hold at the BOJ.
Governor Haruhiko Kuroda indicated this week that the rate could go as low as minus 0.5 percent, and all the board members who supported the new policy said it could be cut further, the minutes showed. The bank's decision to follow European central banks into negative territory has driven down interest rates in Japan, hit money-market funds, raised concerns over bank profitability and worried lawmakers.
"The minutes reinforce a view that the next easing will be a combination of a rate cut and expansion of QQE," said Yasuhiro Takahashi, an economist at Nomura Securities Co. in Tokyo, referring to the BOJ's asset purchases. "There wasn't much explanation why they didn't expand asset purchases in the minutes but I think that's probably because the debate would have been about the limits of QQE and they didn't want to draw attention to it."
There was a heated debate on the negative rate before five of the nine board members voted to adopt it, the minutes show.
A few board members said:
The decision could be misunderstood to mean that the bank was approaching the limits of asset purchasing if it was announced so soon after the December 2015 introduction of "supplementary measures for QQE."
One of those members said:
The complex policy framework could cause confusion and anxiety, both for financial institutions and depositors.
A different member said:
Introducing a negative interest rate and maintaining the current pace of increase in the monetary base at the same time lacked consistency.
The negative rate could have large side-effects on functioning of financial markets and system.
The policy could lead to competition with overseas central banks to further lower negative rates.
"The Bank might become the ultimate buyer of JGBs and market participants could regard the Bank's JGB purchases as deficit financing."
A different member said:
The policy would impair the stability of the Bank's JGB purchases and increase instability of the financial system, and therefore would only be appropriate in a crisis situation.
In response, a few members noted that it was important for the bank to communicate effectively so as to avoid misunderstanding of its policy intentions. The finance ministry representative at the meeting said that the new policy was "necessary for achieving the target of monetary policy."
The term of board member Sayuri Shirai, who opposed the rate decision, is up at the end of the month. Japanese Prime Minister Shinzo Abe has nominated Makoto Sakurai to replace her.
Before it's here, it's on the Bloomberg Terminal.
LEARN MORE