Why Minority Applicants Scrape Race From Their Résumés
A study shows that minority job applicants may be more likely to get an interview if they don't disclose their race.
by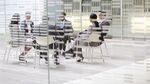 Diversity has become a measure of success in business. Companies with ethnically and racially diverse boards are 35 percent more likely to outperform their industry peers, according to a report by McKinsey & Company, and investors increasingly look at a company's diversity metrics. But despite the known benefits of workplace diversity, a new report suggests hiring practices at companies are still working against minority applicants. 
"Organizations that explicitly mention diversity in their job ads discriminate no less than organizations that don't mention diversity at all," said Sonia Kang, a professor at the University of Toronto who co-authored the report, which was published in Administrative Science Quarterly, Cornell's business school journal. Kang and her fellow researchers sent 1,600 fabricated résumés to 600 companies. Half of the companies advertised that they embrace diversity and the other half of the companies did not. The research showed that résumés submitted by minorities that made no reference to the applicant's race, were two to 2.5 times as likely to result in a call back than résumés that offered clues that the applicant was black or Asian. 

The findings point to subtle discrimination against black and Asian job applicants in the labor market. In addition to sending out fake résumés, the researchers interviewed 59 Asian and black job applicants between 18 and 25, and nearly 40 percent said they tried to avoid these biases by "whitening" their résumés, said Kang. They did this by flushing any reference to their race from their CV. How they went about doing so differed slightly by race (only Asian and black applicants were studied). Asian applicants were more likely to change their names to "sound more American or 'white,'" said Kang, or use a middle name instead of a first name. Black applicants were more likely to exclude mentions of race-focused organizations, awards, or scholarships. "We met a student who won a merit scholarship and left it off of his résumé because it was only for African American students," said Kang. "These students are convinced that their race is going to count against them in the hiring process." 
The advantage of a "whitened" résumé that the study demonstrated suggests these applicants had reason to be concerned.  Prejudice can take subtle forms," said Dave Mayer, a professor of management at the University of Michigan's Ross School of Business. "Micro-aggressions are extremely ambiguous forms of prejudice, like not making eye contact or calling someone by an Americanized version of their Chinese name: It might mean nothing, or it might signal something else," he said, adding that because everyone uses cognitive shortcuts it can be hard for organizations and individuals to parse their hiring practices for hidden biases and prejudices. 

But résumé-whitening, while an understandable response to these biases, can take a toll on one's identity and self-esteem. "When I heard the term it makes me think of physical whitening, and ... the deluded believe that lighter colors are better and have higher status," he said. Companies should be held accountable for diversity, he added, "because public statements of ethics codes and diversity initiatives have no correlation with actual behavior."

The practice's prevalence illuminates troubling realities in diversity and hiring, but most of those interviewed still hadn't resorted to masking their identities to battle unconscious bias. "We interviewed many students who had the opposite stance, and said that they wouldn't want to work at a company that wouldn't accept their racial background," said Kang.
Before it's here, it's on the Bloomberg Terminal.
LEARN MORE