Why Minority Applicants Scrape Race From Their Résumés
A study shows that minority job applicants may be more likely to get an interview if they don't disclose their race.
By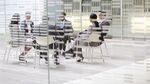 Diversity has become a measure of success in business. Companies with ethnically and racially diverse boards are 35 percent more likely to outperform their industry peers, according to a report by McKinsey & Company, and investors increasingly look at a company's diversity metrics. But despite the known benefits of workplace diversity, a new report suggests hiring practices at companies are still working against minority applicants.