Venture Capital
Unmasking Startup L. Jackson, Silicon Valley's Favorite Twitter Persona
The anonymous tech personality is a venture capitalist but not any of the ones people thought.
By and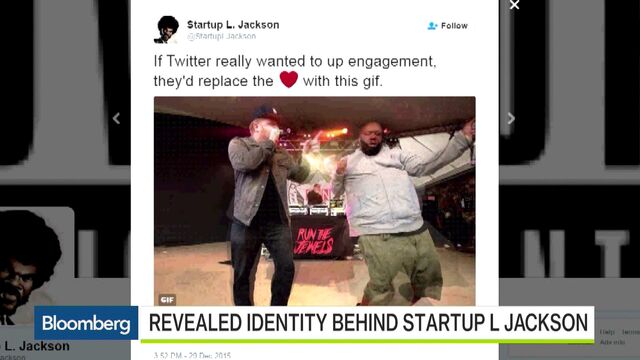 Startup L. Jackson didn't even say goodbye.
For four years, an anonymous Twitter account delighted and perplexed Silicon Valley, meting out barbed and darkly funny advice about building startups. Few in the insular technology community knew his real name, and his 78,000 followers didn't seem to care. Top venture capitalists, such as Marc Andreessen, bantered and debated with Startup L. like he was a peer. His tweets were quoted in tech press as gospel. On Dec. 31, he posted a few of the usual snippets, like tough-love tips about how hiring a vice president of diversity was a waste. Then he never tweeted again.
"Sitting shiva for @StartupLJackson," mourned an entrepreneur last month. Investor Chris Dixon tweeted a brief epitaph: "Startup L. Jackson. 2011-2015." In the weeks since Jackson fell silent, people still called out to him on Twitter multiple times a day, asking for his opinion on the recent market downturn, Twitter's algorithmic feed, and trouble at the high-flying startup Zenefits. They shared conspiracy theories: Maybe he'd gone silent because he's out raising a fund. Is he helping write the next season of HBO's Silicon Valley? Is he actually the late David Bowie? They scrutinized his digital fingerprints hoping for a clue. "I thought maybe he partied too hard on New Year's and didn't survive, but he liked a tweet on 1/26. #Mystery," one follower noted.
Two months later, sitting in an unremarkable third-floor conference room on Montgomery Street in San Francisco, a venture capitalist named Parker Thompson explained why he first thought he'd take a break, then decided to retire his online alter ego for good.

"It became the thing it was critiquing," said Thompson, who works at AngelList, an online meeting place for early-stage investors and startups. At first, the account was a place to test this question: In Silicon Valley, a place he calls "obsessed with status and pedigree," could someone's ideas get traction when it wasn't clear if the speaker was a state-school dropout or someone with a $100 million checkbook?
The popularity of Startup L. Jackson showed it was possible. Fame, however, tainted the testing ground. By 2015, the character had bizarrely become a thought leader of his own, who could probably spout nonsense and still get a deluge of retweets and comments. It proved its point, so it lost its purpose. "I won, right?" Thompson said.
Thompson said the idea for @StartupLJackson came in 2011 after a conversation with Eric Ries, the author of the bestselling entrepreneurial manifesto The Lean Startup. Ries was recording the audiobook version around the same time the actor Samuel L. Jackson was lending his voice to the audiobook for the adult-friendly children's story Go the F**k to Sleep. Thompson, then the director of business development for software consultancy Pivotal Labs, made a joke: What if Jackson—really, his gruff, Bible-quoting-yet-profane Pulp Fiction character, Jules—doled out startup advice to entrepreneurs?
That became an inside joke at Pivotal Labs, and soon Thompson had started the pseudonymous Twitter account, with a cartoon image of Jackson as the profile picture. Startup L. produced some classics inspired by the film's dialogue—"Blessed is he who, in the name of profit, shepherds the user through the funnel, for he is truly his user's keeper" and "you will know I am going to IPO when I lay my financials upon you." But the schtick "lasted maybe 10 tweets," Thompson said. Over time, his voice evolved into a stream of wry one-liners ("If you haven't been hacked by the Chinese you got to ask yourself, does the s--- you're doing really even matter?") and straight-talk advice ("Execution is the only moat"). It was also a safe place for him to post the occasional razor-sharp observation after a lame meeting. Under his name, it might have been offensive. Startup L. Jackson would get retweets.
Things kept picking up speed, and with great follower count comes great responsibility. Thompson, a 37-year-old father of two who is a connoisseur of podcasts and technology journalism, describes himself as someone who doesn't go out of his way to be known. But Startup L. had the eager ear of Silicon Valley's most influential, and he began to ask himself what he could do with such a loud megaphone. The character developed a few trademark crusades—laying bare Silicon Valley's challenges with diversity, for one. Humor helped. "You've got 99 developers and a woman ain't one," he tweeted. "No s--- you're having culture problems, I don't feel bad for you son." Levity resonated with readers more than angry diatribes would, Thompson said. He's guided by what he's seen as an early-stage investor, where anyone who doesn't match the pattern of white engineer from Stanford can have a tough time. As part of his investing, Thompson is a participant in Bloomberg Beta's "Open Scouts" program, through which Bloomberg Beta co-invests with Thompson. Bloomberg Beta is the venture capital arm of Bloomberg LP.
The Twitter alias provided cover for taking Silicon Valley to task for its weird cultural idiosyncrasies. He made due fun of tech bros who wear sport coats over startup T-shirts and venture capitalists' weakness for flattery. The observations mined Silicon Valley's newfound eagerness to laugh at its own absurdity. "We do wear T-shirts under sport coats," Thompson said. "I know that guy. Maybe I've been that guy."
Barbs aside, founders also thirst for advice, and Twitter has a robust ecosystem of entrepreneurial tweetphorisms. When it's all about the hustle, it's not so crazy to reach out to a fake persona and ask for guidance or even money. Several have, and Thompson often takes a meeting. Thompson is sensitive to being white writing under a black man's persona, even though it's a cartoon. When one woman asked Startup L. for help establishing her first fund for minority and female entrepreneurs, he didn't invest, but he did meet her in person. Thompson—not Startup L.—became an adviser to her firm. "People just want help," he said. "But there just aren't that many people who are in the industry who will respond to you if you have 500 followers, you know? They're just like, 'Who the f--- are you? Leave me alone.' "
As the profile of Startup L. Jackson grew within Silicon Valley, so did the allure of unmasking him. Enterprising fans, hungry for a good puzzle and maybe acclaim, launched full-scale efforts to unveil his secret identity. One armchair sleuth conducted a semantic analysis of the language in Startup L. Jackson's tweets and compared it with other tech luminaries. Nine possible culprits were identified, none of them Thompson.
Now that Startup L. is retired, Thompson doesn't mind the secret getting out. It's never been a tightly kept one, anyway. Dozens of his friends and colleagues have known for years, and he stands by everything Startup L. Jackson said. It also can't hurt Thompson's career to be known as the person behind a voice many found smart. "I imagine more people will go, 'I've heard of that guy,' " he said.
Thompson recognizes that life with the mere 3,536 people who follow his real Twitter profile (@pt) doesn't deliver the same rush. He might pull a Steve Martin and dip a toe back in—Startup L. is scheduled to do a live chat on the startup forum Product Hunt in a week—but it won't be like before. "It's like quitting cigarettes," Thompson said. "There are days when someone says something on Twitter, and I'm like, 'I have the best tweet for this.' But I let it pass."