business
Under the Hood of Japan Trade Data Are Weak Exports to U.S.
By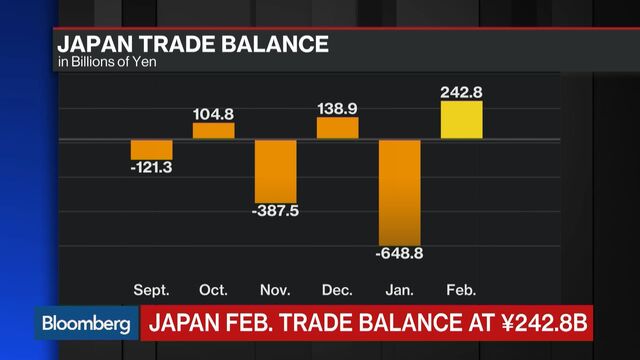 Here's a key takeaway from Japan's trade data released Thursday: Exports to the U.S., which for most of last year were a bright spot amid slowing demand from China, were almost flat in value terms as the yen strengthened against the dollar. Overall, the outlook for Japanese exports is getting more gloomy.
Exports to the U.S.: value rose 0.2 percent in February from a year earlier, volume fell 3.2 percent for a 10th consecutive monthly decline
Exports to China, Japan's largest trading partner: value rose 5.1 percent, while volume increased 15.6 percent . The Lunar New Year started Feb. 8 this year, which slowed exports to China and other Asian nations in late January, contributing to gains in February compared with a year earlier.
Overall exports fell 4 percent in value, with volumes flat, rising 0.2 percent



With the finance ministry pricing exports in yen, the weakening of the Japanese currency driven by Prime Minister Shinzo Abe's reflationary policy increased export values in 2015. That advantage is fading as the yen has strengthened about 6.5 percent this year.
"The tailwind from the weak yen has gone. We can't help but hold a pessimistic view on the outlook for exports," said Atsushi Takeda, an economist at Itochu Corp. in Tokyo, said before the figures were released. "Domestic demand won't be dependable at all, and the same goes for exports. I can't deny the possibility of another economic contraction this quarter."
Japan's economy shrank in the final three months of 2015, for the fifth quarterly contraction since Abe returned as prime minister in December 2012. The gross domestic product declined an annualized 1.1 percent, and falling private consumption was the biggest drag on the economy. Economists are pointing to growing risks of another decline in GDP for the first quarter of 2016.
"The lack of a boost from exports raises a risk of Japan's contraction this quarter," said Nobuyasu Atago, the chief economist at Okasan Securities Co. and a former Bank of Japan official. "It's becoming clearer that the weakness of the global economy is taking a toll on Japan's economy."
— With assistance by Toru Fujioka, and Isaac Aquino
(
Updates with Atago comment in final paragraph.
)
Before it's here, it's on the Bloomberg Terminal.
LEARN MORE