Uber to Start Providing Cross-Border Trips From U.S. to Mexico
Passengers will be able to travel from San Diego to Tijuana, but they'll need to find another way to get back.
by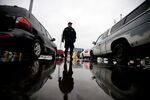 Americans who want to cross the Mexican border, perhaps to enjoy Tijuana's bars, bullfighting, or street art, will be able to do so in an Uber for the first time.
Uber Technologies Inc. will offer rides across the most-traveled international land crossing starting on Friday. Passengers will only be able to go from San Diego to Tijuana for now. They'll have to find another way to get back.
The reason for that limitation is that commercial activity—the service that's taxed and regulated—occurs at the point of pickup, not drop-off, according to regulations that govern Uber, Lyft Inc., and other transit companies. Uber said it's working on making cross-border pickup available from Tijuana, too.
Uber is already available in San Diego, Tijuana, and 395 other cities around the world, according to the company. Until now, Uber drivers were required to drop passengers at the border, where they would walk across and order a second car at the other side. The new service will require passengers to have a passport and any other required documentation, Uber said.
Before it's here, it's on the Bloomberg Terminal.
LEARN MORE