TPG Sees Opportunity in $131 Billion India Distressed Assets
by and
Open to writing billion-dollar India checks: co-CEO Coulter

TPG would like to triple India investments in three years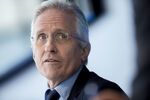 Jim Coulter, the co-founder and co-chief executive officer of alternative asset manager TPG, is so excited about India that he brought 65 of his investors to the nation to meet policy makers and companies this week.
TPG may write "billion-dollar checks" in India, Coulter said in a phone interview from New Delhi on Wednesday. The private equity firm has been on the sidelines for a long time, waiting for opportunities to invest in non-performing assets in the country, according to TPG Capital's India head, Puneet Bhatia.
"Our single focus is in India right now," Coulter said. "We have the dry powder, the inclination and we have the aspiration that this would be the core market for us as this economy grows."
Buyers including TPG and KKR & Co. are flocking to India, lured by prospects of buying assets at deep discounts in a nation that's forecast to expand 7.5 percent in the year starting April even as growth slows in China. A surge in problem loans prompted Prime Minister Narendra Modi's government to ease rules for private equity firms to invest in stressed assets.
Problem Loans
In India, "we would like to find a way to invest a billion a year for the next three years if we can find the right investments," Coulter said. TPG has invested $1.5 billion in India so far, he said.
Problem loans, which include bad debt, restructured loans and written-off assets, rose to $131 billion as of Sept. 30, Reserve Bank of India data show. That's equal to 14.1 percent of total loans, the highest proportion in at least 15 years. Another 4 percent might sour when an audit driven by the central bank finishes March 31, according to Credit Suisse Group AG.
"It now strikes as the time when the ducks are lined," Bhatia said by phone Wednesday. "Distressed opportunities in India are more suited for private equity, as you have to own the entire capital structure and need to make the management changes."
TPG's investors visiting India this week manage more than $3 trillion of capital, according to Coulter. This is the first time the private equity firm brought its investors to the nation. 
Wireless Towers
"We want to be sure that the LP community understands the level of our interest and the thinking behind it," Coulter said, referring to TPG's investors, known as limited partners. "It's an indication that it will be an active area for us over the coming years."

TPG and Tillman Global Holdings LLC signed a non-binding pact in December to buy cellular towers from Reliance Communications Ltd. The deal could be the largest private-equity investment in India, Bloomberg-compiled data show.
Private equity firms invested $16.9 billion in India last year, the highest in seven years, as debt-laden companies sought to pare assets to cut debt, according to data compiled by Bloomberg.
State Lender
TPG Capital is among investors interested in acquiring a stake in Indian state-owned lender IDBI Bank Ltd., people with knowledge of the matter said Thursday. A formal process for the stake sale hasn't not yet started, according to the people, who asked not to be identified as the information is private. 
IDBI Bank Chief Financial Officer N.S. Venkatesh said he couldn't comment, while TPG declined to comment in an e-mail.
Many challenges have been chronicled in India, but it's "quite an interesting time" for the country considering the issues in China and the negative interest rate environment in Europe, according to Coulter.
"We are starting to see high-quality, bigger-ticket transactions," Bhatia said. "We are taking a hard run at situations as they are emerging."
Before it's here, it's on the Bloomberg Terminal.
LEARN MORE