The Trouble With Female Libido Pill Is a Symptom of Valeant Woes
by
Patient says drugstore charged her $1,200 for a month's supply

Insurers typically don't include it in standard plans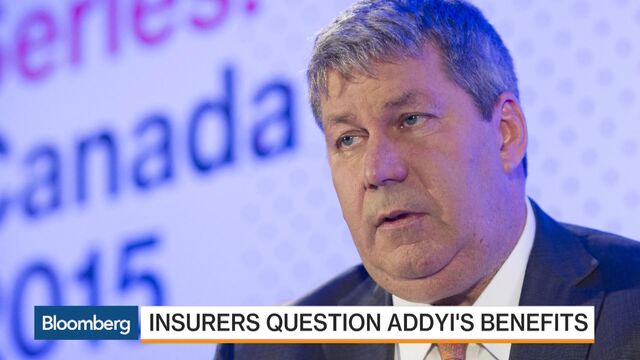 Valeant Pharmaceuticals International Inc.'s struggles to ramp up sales of its new female libido pill offer a window into the drugmaker's woes.
The mail-order pharmacy that could have helped distribute the drug is now out of the picture following a scandal that forced Valeant to sever the relationship in October. Insurers are denying or limiting coverage for the daily pill, called Addyi, and large pharmaceuticals benefit managers are blocking it. The result: Many prescriptions written by doctors aren't getting filled.

"Clearly, we have to demonstrate our ability to have success and we've not done that yet," Chief Executive Officer Mike Pearson said on a conference call Tuesday. "So that's on us, and we're working hard to deliver."
Selling Addyi -- the first drug of its kind for women -- is just one of the numerous challenges ahead for Valeant, whose stock and bonds plunged the most ever on Tuesday as investors lost faith in the embattled drugmaker. Valeant agreed to buy Addyi's maker, Sprout Pharmaceuticals, for $1 billion in August, at a time when Pearson's strategy to grow through acquisitions and price hikes was embraced by Wall Street. Mirroring Valeant's dramatic fallout over the past six months, Addyi went from a bold bet to a problematic business.
"We don't know how big Addyi is going to get, but we don't think it's going to be a blockbuster," said Ram Selvaraju, an analyst at Rodman & Renshaw who recommends buying Valeant stock. "It is an expensive mistake."
Challenging Start
Valeant said Addyi sales are growing after a challenging start, which it attributes in part to the fact that there's confusion over what type of doctors would prescribe the treatment, and that benefits managers take six to nine months to review any new drug. About 57 percent of prescriptions written are now being filled and paid for, up from 25 percent to 30 percent in the fourth quarter, Anne Whitaker, company group chairman, said on the conference call.
"I feel very confident by mid-year, we will have improved access for Addyi," she said, adding the second half of the year will be a "a much better" time period to judge the performance of the drug.
The Addyi deal -- within days of its approval by the U.S. Food and Drug Administration -- was a risky proposition from the start. The treatment, which was rejected twice before getting approved, carries a boxed warning, the FDA's strictest, and women have to sign an agreement acknowledging the risks. A Dutch study combining eight clinical trials involving almost 6,000 women released in February showed that Addyi gave women one additional satisfying sexual experience every other month, while carrying the side effects of dizziness, sleepiness, nausea and fatigue.
'Modest Efficacy'

The largest U.S. benefits managers have questioned its effectiveness and potential side effects.
"It's of modest efficacy at best, it's not particularly safe," Express Scripts Holding Co. Chief Medical Officer Steve Miller said last month, adding the benefits manager put the pill in its "non-preferred" category based on its clinical benefits.
Rival pharmacy manager CVS Health Corp. is concerned about Addyi's "overall relatively insubstantial evidence around efficacy," and hasn't added it to its formulary, or list of approved prescription medicines, according to Chief Medical Officer Troyen Brennan.
"We are looking harder at the data," Brennan said.
'Very Expensive'
Then there's the matter of price. Before the sale to Valeant, Sprout CEO Cindy Whitehead said Sprout would price Addyi at about $350 to $400 a month before insurance coverage. Whitehead initially agreed to join Valeant and lead the division, but left the company a few months later. Addyi, which unlike male sexual dysfunction drugs is a daily pill, retails for about $800 to $850 for 30 tablets, according to price comparison website GoodRx.
"The drug is very expensive," said Miller, the Express Scripts executive.
Because Addyi acts on the central nervous system, it falls in the limbo space between a psychiatric drug and a treatment prescribed by a gynecologist, according to James Simon, clinical professor of obstetrics and gynecology at the George Washington University School of Medicine.
"Insurance companies seized upon that to set up additional barriers for both groups to prescribe or to get the drug into the hands of patients," said Simon, who worked as chief medical officer at Sprout for a year before it was sold to Valeant, and has done consulting work for Valeant on the drug.
Psychiatrist Prescription
Requesting a visit to a psychiatrist puts up unnecessary roadblocks for women, doctors said. Tami Rowen, an obstetrician and gynecologist at University of California at San Francisco Medical Center, said patients with low libido often come first to their gynecologist.
"What these insurance companies are telling me as an OB/GYN is that I'm not qualified to diagnose hypoactive sexual desire disorder," Rowen said.
Another hurdle for Valeant is that insurers offering some coverage often put Addyi, like other sexual-performance treatments, on tiers that carry higher co-pays for patients. For plans sold by Anthem Inc. through Affordable Care Act exchanges, the drug isn't covered, but individuals may be granted an exception. Humana Inc. said Addyi, for the most part, isn't covered by its commercial and exchange plans. At Aetna Inc., for the plans that opt to cover these drugs, members have to meet certain clinical criteria.
Unlike male sexual dysfunctions, low sexual desire in women isn't a widely recognized medical disorder. Valeant said it's working to educate doctors, pharmacists and health-care providers about hypoactive sexual desire disorder, known as HSDD, and expects more insurance coverage in the second half.
"As recognition builds about HSDD as an important and well-validated medical condition, we will see reimbursement concerns ease," said Tracy Valorie, a Valeant spokeswoman. "We are blazing a new path for these women, and that is never an overnight process."
Walgreens Agreement
Valeant is counting on an agreement with Walgreens Boots Alliance Inc. to help distribute drugs after it cut ties with the controversial mail-order pharmacy Philidor Rx Services LLC -- which was the center of a scandal that triggered a probe by the Securities and Exchange Commission and forced Valeant to be late filing final results.
There's still a long way to get prescriptions filled for patients like Anna Solis, a 55-year-old public health educator based in San Diego.
Solis said she started to feel like her old self again after all of 10 days on Addyi, initiating sex more often and growing more physically affectionate toward her husband. But her insurer, Kaiser Permanente, doesn't cover the drug for her, she said, and her latest copay coupon is only good for six months. Her drugstore has tried to charge her as much as $1,200 for a month's supply.
"We definitely couldn't afford that, there's no way, but I don't know what we'd do," said Solis, contemplating a future without Addyi.
Before it's here, it's on the Bloomberg Terminal.
LEARN MORE