Talk Is Cheap for Bank of Russia Still Leery of Rate Cuts
by
Benchmark will remain at 11% at Friday meeting, survey shows

Inflation, budget uncertainty mean longer wait for rate cuts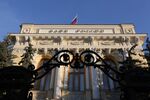 Talking the talk of monetary easing doesn't mean the Bank of Russia is ready for an about-face on interest rates.
While economists from Royal Bank of Scotland Plc and Nomura International Plc say the central bank's rhetoric will turn dovish this week, they differ over the timing of rate cuts after a halt since July. In less dispute, though, is that the benchmark will remain at 11 percent for a fifth meeting on Friday. Only seven of 42 analysts surveyed by Bloomberg predict a 50 basis-point decrease, with the rest seeing no change.
After a year of plunging oil prices fed currency crises in Russia and pushed the economy into its longest recession in two decades, the central bank is now all but certain to back off its warning in January that it may tighten monetary policy if risks to price growth intensify. What's still giving Governor Elvira Nabiullina pause are elevated inflation expectations and the uncertainty roiling Russian fiscal policy. That means monetary loosening may be months off.
"The risks from easing policy at this stage most likely still outweigh the benefits," said Dmitri Petrov, an analyst at Nomura who predicts no change before a 50 basis-point cut in June. "We would expect the central bank to wait until there is greater confidence in both the inflation and inflation-expectations dynamics as well as some reduction in uncertainty about the currency."
The central bank will announce its decision at about 1:30 p.m. on Friday in Moscow, followed by Nabiullina's news conference. Policy makers will also issue updated forecasts.

Easing Wagers
Derivatives traders are pricing in monetary loosening ahead. Forward-rate agreements are signaling 83 basis points in rate cuts during the next three months, the biggest wagers since November for a reduction in borrowing costs. The ruble is up more than 7 percent against the dollar this year after a 20 percent loss in 2015.
"The Bank of Russia would prefer to remain cautious," said Vladimir Tikhomirov, chief economist at BCS Financial Group in Moscow, who forecasts the next decrease in April, of 50 basis points. "The question is still open over how much inflation may accelerate in the second quarter and how stable the trend is for a recovery in oil prices."
The central bank is in a bind because inflation expectations remain elevated. Annual price growth, while decelerating for the past six months, is still at more than twice the bank's 4 percent target.
Hands Tied
Policy makers may not pull the trigger until the third quarter, according to Tatiana Orlova, a senior economist at RBS in London. "The central bank's hands will remain tied until the price of oil has passed the bottom," she said.
Also feeding the uncertainty is fiscal policy, with the government now reviewing this year's budget, which is currently based on an average oil price of $50 a barrel. It's weighing different options to boost revenue after the collapse in the prices of crude and gas, which contribute more than 40 percent to budget income.
The Finance Ministry is struggling to keep the budget deficit to 3 percent of gross domestic product, which will already be the biggest in six years. A wider fiscal gap will increase pressure on money supply and may eventually push the central bank to raise borrowing costs, Finance Minister Anton Siluanov said Thursday.
"It may be opportunistic for the central bank to cut the policy rate now given the uncertainty around fiscal policy, which will become the main source of inflation risks later this year," said Alexey Pogorelov, an economist at Credit Suisse Group AG in London.
Before it's here, it's on the Bloomberg Terminal.
LEARN MORE