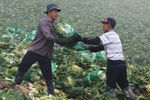 South Korea's low inflation rate is hiding a problem that the country's consumers know too well: food costs are putting a pinch on household budgets.

While overall consumer price gains have remained below or close to 1 percent for a year and a half, the index for fresh food rose 9.7 percent in February, the most since 2013.

Prices for some staples are skyrocketing. The average cost of onions doubled from a year earlier and napa cabbage jumped 66 percent, according to data from Korea Agro Fisheries & Food Trade Corp. In a few months, the higher cabbage prices may mean more expensive Kimchi, which is almost guaranteed to upset consumers.


The most recent surge in fresh food prices, which is partly due to colder weather and snow over winter, may last a couple of months, according to the government. It comes after a drought hurt agricultural output in the summer. Cheaper oil is one area of respite for households, and is the biggest contributor to the weakness in the inflation gauge.

"Spending is already weak in Korea and the sluggishness could spread if consumers feel that some prices are rising fast," said Lim Hee Jung, a research fellow for Hyundai Research Institute in Seoul.

With export earnings falling, the economy can't afford a further drop off in demand at home. The timing is also bad for the government of President Park Geun Hye, with parliamentary elections due next month.

The gap between the benchmark price gauge and what's seen at the supermarket checkout hasn't gone unnoticed. The statistics office is examining the 481 items that comprise the CPI basket to determine changes to better reflect overall price movements. 

Prices for services are also biting. They've outpaced overall inflation for almost two years, thanks to everything from higher rent costs for housing to bigger bills at restaurants. 


Groceries and non-alcohol beverages account for about 14 percent of monthly expenses for South Korea households, data from the statistics office show.

"It's likely that the revised basket will have higher weightings for eating out and monthly rent," said Woo Young Jae, a director at the statistics office. "We're also considering releasing more detailed indexes so that consumers can track trends in specific categories."

Any changes will be decided this year and take effect in 2017.
Before it's here, it's on the Bloomberg Terminal.
LEARN MORE