SeaWorld Shuts Down Killer Whale Shows, Bowing to Criticism
by
Theme-park operator shifts to `natural orca encounters'

All orca breeding to cease as of Thursday, company says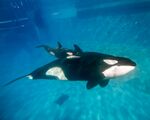 SeaWorld Entertainment Inc. is shutting down its killer whale shows and will eventually stop keeping the animals in captivity, bowing to criticism of its care of the sea creatures as depicted in the documentary "Blackfish."
The current generation of orcas will be the last in SeaWorld's care, the Orlando, Florida-based company said in a statement Thursday. Park visitors will be able to see the animals in "natural orca encounters" rather than watching them perform, SeaWorld said.
The shares of the theme-park operator rose as much as 5.8 percent in New York following the announcement, their biggest intraday gain since Aug. 6, 2015.
SeaWorld has struggled with declining attendance and share performance since the 2013 release of "Blackfish," a documentary that criticizes its care of captive orcas. In November, the California Coastal Commission approved a $100 million expansion of the company's San Diego killer whale tank, under the condition that the company stop breeding the whales there. The company had initially said it would sue to reverse that decision.
Earlier this month, SeaWorld announced that its largest and best-known orca, Tilikum, which killed trainer Dawn Brancheau in 2010, has a life-threatening bacterial infection.
"As society's understanding of orcas continues to change, SeaWorld is changing with it," Chief Executive Officer Joel Manby said.
All breeding of killer whales will end as of Thursday, according to the statement. New orca educational programs will begin at its San Diego park next year, followed by San Antonio and then Orlando in 2019.
The decision to phase out a key draw of SeaWorld's parks may actually increase attendance and sales, said Bob Boyd, a leisure credit analyst at Pacific Asset Management. Marketing campaigns may seek to capitalize on the last generation of orcas in captivity, urging consumers to come see the creatures while they still can. Such campaigns could last 20 years, he said.
"This path is actually smarter," Boyd said.
Groups Support Move
The Humane Society of the United States, which partnered with SeaWorld on the new policy, said it was happy the company was taking steps to end "the era of captive displays of orcas" and continue its work to rescue and rehabilitate marine mammals.
The Animal Welfare Institute said it hopes to continue discussions with the company about improving conditions for all animals in its parks.
"The decision to end its orca breeding program globally and to commit to ending the collection of exhibit animals from the wild, as well as to a 'no orca' policy should SeaWorld expand its brand into new international markets, is a monumental and important first step forward in achieving a more humane business model for the company," Naomi Rose, a marine mammal scientist at the institute, said in a statement. 
SeaWorld, under fire from animal rights groups, last month said employees will no longer pose as activists. People for the Ethical Treatment of Animals said in July that SeaWorld employee Paul McComb had masqueraded as an animal-rights activist for three years, holding anti-SeaWorld signs in front of the company's San Diego theme park and getting hauled away by police during a protest at the Rose Parade in Pasadena, California, in 2014. SeaWorld said last year such activity isn't consistent with the company's values and put the worker on leave. McComb remains an employee in a different department and is no longer on leave.
Before it's here, it's on the Bloomberg Terminal.
LEARN MORE