Dow Average Recovers 2016 Losses as Stocks Rally on Dollar Slide
by
Raw-material, industrial shares lead amid weaker dollar

S&P 500 Index briefly wiped out its losses for the year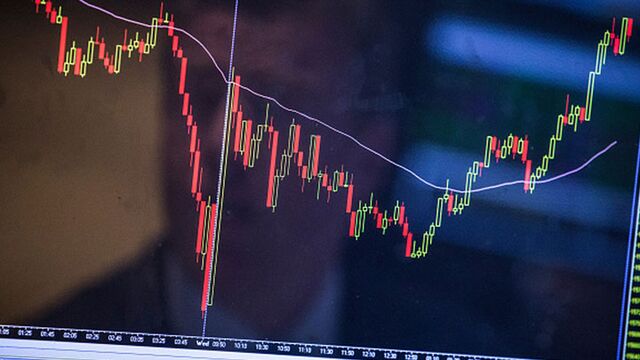 The Dow Jones Industrial Average erased its 2016 losses, as a weaker dollar spurred a rally in commodity producers and industrial shares that spread to the broader U.S. stock market.
Equities pushed to the highest levels since the end of last year as a gamut of companies that benefit from a lower U.S. currency, from General Electric Co. to Coca-Cola Co., surged. A scaled-back pace of interest-rate increases from the Federal Reserve sent the dollar spiraling lower, helping the Dow extend a rebound of more than 11 percent from a two-year low reached last month.
The Standard & Poor's 500 Index rose 0.7 percent to 2,040.59 at 4 p.m. in New York, near its break-even level for the year. The Dow added 155.73 points, or 0.9 percent, to 17,481.49, wiping out a 2016 loss that reached as much as 10 percent. The Nasdaq Composite Index rose 0.2 percent, with an increase capped by the slide in biotechnology companies. About 8.2 billion shares traded hands on U.S. exchanges, 6 percent below the 2016 average.
"Being back to positive does help to a degree," said Peter Jankovskis, who helps oversee $1.9 billion as co-chief investment officer of Lisle, Illinois-based OakBrook Investments. "Some of the selling that we had through January and February was definitely overdone, but the fact that the Fed remains reasonably confident in the U.S. economy and is keeping an eye on overseas conditions, that's given some reassurance to investors."

A five-week rally has eradicated declines in the Dow and nearly in the S&P 500 that were fed by concerns a slowdown in China would spread, worries that were intensified by a deepening rout in oil and other commodity prices. Energy, raw-material shares and banks have led the rebound as crude recovered, lifting sentiment on lenders amid reduced anxiety about the solvency of some energy producers.
Caterpillar Inc. gained 2.1 Thursday with commodity shares, even after cutting its first-quarter outlook amid speculation the worst is behind the company. FedEx Corp. jumped nearly 12 percent after raising the bottom of its full-year earnings forecast range. Boeing Co. gained 2.5 percent to a two-month high. Health-care shares sank for a fourth session, the longest since January.
The Bloomberg Dollar Spot Index fell to its lowest since June after the Fed yesterday signaled that borrowing costs won't rise as fast as officials previously forecast, citing the potential impact from weaker global growth and financial-market turmoil on the U.S. economy. Caterpillar, the biggest maker of construction and mining machinery, bears out that concern with its lower profit outlook as oil drillers cut billions in costs to weather a rout in commodities amid tepid global demand.
Dollar Impact
Still, the lower dollar makes U.S. multinational companies more competitive overseas, a potential boost to lagging profits while the currency's weakness also bolsters investor demand for commodities priced in dollars. The Bloomberg Commodity Index rose to a three-month high. The raw-material and industrial groups were the two strongest performers in the S&P 500 Thursday, with the latter group reaching an eight-month high.
The Fed meeting was the third major central-bank event in a week, as policy makers continue to signal their willingness to buttress global growth. The European Central Bank unleashed an unprecedented stimulus package last week, while the Bank of Japan on Tuesday held off from adding more to its record stimulus to assess the impact of negative interest rates. The Bank of England today kept its key interest rate at a record low.
Traders' expectations for Fed rate increases this year retreated after rising during the past month amid better U.S. data, higher oil prices and a rebound in equities. Odds for a June boost to borrowing costs are at 37 percent, compared with about 54 percent before the Fed's statement and outlook.
The S&P 500 has risen nearly 12 percent since its February low, while briefly erasing its 2016 drop. The benchmark is now about 4 percent below a record set last May.
Volatility Sinks
The Chicago Board Options Exchange Volatility Index fell 3.7 percent Thursday to 14.44, a four-month low. The measure of market turbulence known as the VIX is on track for its longest streak of weekly declines in four years.
While central banks are focused on addressing slower growth abroad, U.S. data has shown a resilience against the overseas weakness. A report today showed fewer Americans than forecast filed applications for unemployment benefits last week, illustrating the Fed's view of a stronger labor market. Also, gauge on manufacturing in the Philadelphia area rose more than economists forecast.
Nine of the S&P 500's 10 main industries increased today, with raw-materials and industrial shares rising at least 2 percent. The health-care group lost 1.1 percent as drugmakers continued to slide and consumer discretionary shares were little changed.
"It's more broad-based than a commodity thing," said Brian Frank, portfolio manager and co-founder at Frank Capital Partners LLC. "What I'm seeing is that it's more corporate-buyback driven, with the quiet period from earnings season over. It's not fundamental-based, but more corporate flows are coming into the market here, and that's why it's so broad."
Raw-Materials, Industrials
Owens-Illinois Inc. and Freeport-McMoRan Inc. increased more than 6.6 percent as the strongest performers in raw-materials, with the group reaching the highest level since Dec. 4. Chemical maker LyondellBasell Industries NV added 2.6 percent, reversing its losses this year. The group has added 21 percent since reaching a 21-month low in January.
Industrial companies in the benchmark reached the highest since Nov. 23, propelled by FedEx's biggest gain since 1993. General Electric Co. climbed 2.6 percent to erase its 2016 loss, and Emerson Electric Co. added 6.4 percent for its strongest one-day increase since 2011.
The Dow Jones Transportation Average extended Wednesday's rally, advancing 3 percent to its highest since Dec. 2, boosted by FedEx's jump. Union Pacific Corp. and Ryder System Inc. added more than 3.4 percent to three-month highs. The index erased its losses for the year earlier this month, and sits 20 percent above its January low.
As oil surged above $40 a barrel in New York for the first time since December, energy-related companies rose 1.4 percent. The group has rallied nearly 22 percent from a five-year low in January. Chesapeake Energy Corp. added 9.1 percent. Devon Energy Corp. and Diamond Offshore Drilling Inc. both advanced more than 4.5 percent.
"The oil market recovering will continue to feed a risk-on trade," said Tony Bedikian, Boston-based managing director of global markets at Citizens Bank. "It's historically a sign of some potential for global recovery."
Mylan NV and Mallinckrodt Plc tumbled more than 4 percent as health-care shares extended their longest selloff in two months. The group is down 3.3 percent this week, the only loser among the S&P 500's 10 main industries during the period.
Before it's here, it's on the Bloomberg Terminal.
LEARN MORE