Brazil's Lula Sworn In Amid Protests and Legal Challenges
by , , and
Critics say recordings show president was shielding Lula

Anti-government protests erupt in Brasilia and Sao Paulo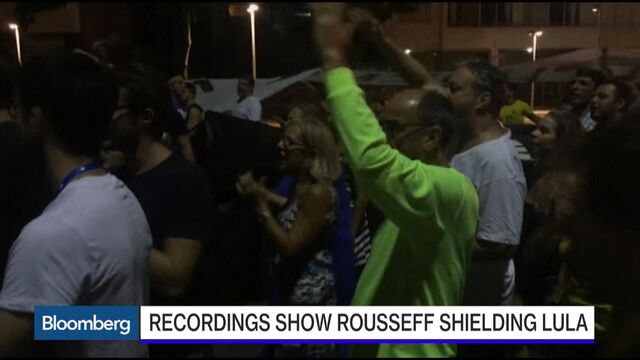 Luiz Inacio Lula da Silva was sworn in as President Dilma Rousseff's chief of staff on Thursday amid nationwide protests, legal challenges and an absent vice president as the political crisis that paralyzed Latin America's largest nation intensifies.
Flanked by several ministers, the former president and Rousseff's predecessor signed his acceptance term in a ceremony at the presidential palace, where government supporters chanted "there will be no coup." Outside the palace in Brasilia, the country's capital, and in cities including Rio de Janeiro and Sao Paulo, thousands of protesters gathered demanding the president's resignation and Lula's arrest.
"Current circumstances give me the magnificent chance of bringing to my government the biggest political leader in this country," Rousseff said in her speech. "Coup supporters won't bring me to my knees."
Vice President Michel Temer skipped the ceremony, increasing speculation that his PMDB party, the largest in the government alliance, would depart from the ruling coalition.
Tension escalated on Wednesday after Federal Judge Sergio Moro released phone recordings that, according to critics, suggest Rousseff appointed Lula as minister to shield him from a wide criminal probe on kickback schemes at state-run oil company Petrobras, dubbed Carwash. The conversation between Rousseff and Lula, obtained through a police wire tap, aired on television and sparked demonstrations around Brazil, with rallies carrying throughout into the night.

Financial markets rallied on Thursday on bets that impeachment proceedings against Rousseff would regain momentum after the release of the tapes, with the Brazilian real rallying 2 percent to 3.67 per dollar at 11 a.m. local time.
In one of the recordings, Rousseff said she was sending Lula a document confirming his appointment to her cabinet and that he should use it only when needed. The conversation increased speculation that Rousseff was protecting her predecessor, as ministers have special legal status and can only be indicted by the Supreme Court. In another chat with Rousseff's former chief of staff, Jaques Wagner, Lula asked for the president to intervene with a Supreme Court justice on his behalf.
QuickTake Brazil's Highs and Lows
Moro's Decision
The presidential palace criticized Moro's decision to publish the recordings, saying it was an affront to the rights and guarantees given to the head of state. Lula's lawyer Cristiano Zanin said on GloboNews that the judge is trying to cause social upheaval, without commenting on the content of the discussions.
Prosecutors had sought a warrant for Lula's arrest after charging him last week with money laundering and making false declarations. A state judge who was considering the request deferred the decision to Moro on Monday. The former president has repeatedly denied wrongdoing.

Rousseff told reporters Wednesday that she nominated Lula to bolster her government as it tries to revive the economy, denying allegations she was protecting him from Moro. "I don't understand, when people talk about this case, they create this theory" that Lula is hiding from the investigation, she said. "Let's be frank here. Lula strengthens my government, and there's people who don't want him to do that."
Impeachment Vote
Lower house speaker Eduardo Cunha meanwhile said impeachment would move ahead without delay, pledging to hold a vote within 45 days. The Supreme Court earlier on Wednesday ruled on procedural issues that had frozen the process since December.
In a further sign that support for Rousseff was crumbling, the PRB party on Wednesday said it would abandon the ruling coalition. Another party, the PSB, joined the opposition early this month. Rousseff's largest coalition partner in Congress, the PMDB, is set to decide within 30 days whether to stay in the ruling alliance.
"The situation is obviously moving to a point of escalation," said Thiago de Aragao, partner and director of strategy at political-risk consulting company Arko Advice.
Before it's here, it's on the Bloomberg Terminal.
LEARN MORE