Rio CEO `Surprise' Signals Pivot From Cost-Cutting to Growth
by , , and
Copper boss Jacques replaces iron man Sam Walsh in July

Changes come as mining giant handles commodity price rout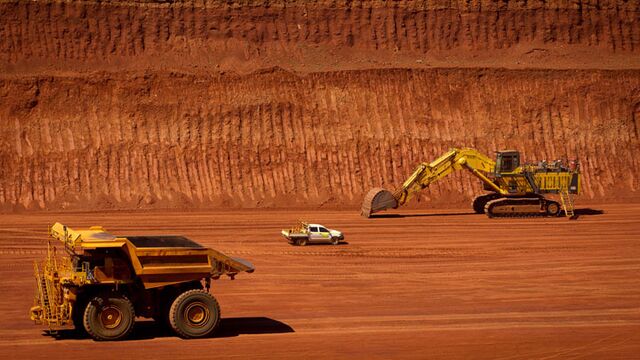 Rio Tinto Group named its top copper executive Jean-Sebastien Jacques as chief executive officer to succeed Sam Walsh, signaling its intent to usher in a new growth phase after years of aggressive cost-cutting.
Jacques has been promoted immediately to deputy CEO and the board of the world's second-biggest mining company. He'll take on the top role in July when 66-year-old Walsh retires, London-based Rio said Thursday in a statement. The 44-year-old Jacques, known as J-S, completed negotiations in December for a $4.4 billion financing package to expand Mongolia's Oyu Tolgoi mine as the company seeks to boost copper output, with demand forecast to rise from about the end of the decade.
"It is our belief that this signals a change of direction for Rio Tinto, given the type of experience that Jacques brings to the role," Sanford C. Bernstein analyst Paul Gait, who has a buy rating on the stock, wrote in a note to clients on Thursday. "We see this as speaking to a deprioritization of the iron ore business and operational management per se, and a reprioritization of strategic vision and an M&A agenda."
Walsh was appointed in January 2013 to replace Tom Albanese after the company was forced to take about $14 billion of writedowns for failed deals in aluminum and coal. The Australian led a concerted cost-cutting regime during his tenure, divesting assets and trimming project spending as prices of iron ore, its top earner, slumped from a 2011 peak.

Walsh's departure "is earlier than we had expected, and the appointment of J-S as CEO has also come as a surprise considering his more limited exposure to investors than other divisional chief executives," Deutsche Bank AG analyst Paul Young wrote in a report. "J-S now needs to deliver on more structural cost out and grow the business further by building the next wave of high returning projects across copper, bauxite and iron ore. The key equity story from here will depend on J-S's vision and strategy."
Jacques, a past-group strategy director for Tata Steel Ltd., will take charge of Rio's portfolio amid the worst commodity-price slump in a generation. That's eroded profits and forced competitors including Glencore Plc and Anglo American Plc to sell assets amid pressure from investors and ratings companies to conserve cash. The Bloomberg Commodity Index of returns on about 22 raw materials tumbled in January to the lowest since 1991.
The biggest miners are also grappling with China's shift from heavy industry-led growth to consumer-led expansion. That's expected to favor metals including copper, used in cars and power grids, and aluminum. Iron ore prices dropped to a six-year low in December.
Biggest Challenges
"Some of his biggest challenges are the things that Jacques is already dealing with," said Brenton Saunders, a Sydney-based investment analyst with BT Investment Management Ltd., which manages about A$78 billion ($60 billion) of assets. They include the Oyu Tolgoi project, the Grasberg gold and copper mine in Indonesia and Rio's coal portfolio, he said.
Rio advanced 2.7 percent to A$44.93 at 11:51 a.m. in Sydney, more than erasing this year's declines. The producer's London-listed shares rose 5.4 percent Thursday to close at 2,034 pence as copper for delivery in three months climbed to a four-month high.
Walsh, whose contract had originally been due to end in December 2015, had his tenure extended in October 2014, weeks after the company publicly rebuffed a merger approach from Glencore. Jacques, who will have a base annual salary of 1.08 million pounds ($1.6 million) in his new role, has "proven to be a standout performer as a leader in our business," Walsh said in a statement.
Antique Milk Jugs
A collector of antique milk jugs, Walsh led the company through several industry battles, overseeing Rio's decision to boost iron ore output in an increasingly hostile price war that put pressure on smaller rivals. Global iron ore production rose 34 percent during his time as CEO. He was also chief of the company's ore unit during the attempted hostile takeover by rival BHP Billiton Ltd. that was thwarted by the onset of the global financial crisis.
As the slump in commodity prices continued, Walsh joined his staff in a pay freeze in January, warning that he saw no signs of respite in the rout that had eroded profits and threatened dividends. The Bloomberg Commodity Index lost 43 percent in the period Walsh was CEO.
"Against the backdrop of a volatile economic environment, Sam and his team have transformed the business," Jacques said in the statement. "Sam leaves Rio Tinto as a much stronger company, with a bright future."
Walsh was in charge of the iron ore division when Rio's head of iron ore in China, Australian Stern Hu, was jailed for 10 years for taking bribes and espionage. Three of his Chinese colleagues were given sentences of as long as 14 years. The incident led to Walsh ordering an independent review of the company's processes and controls.
Before it's here, it's on the Bloomberg Terminal.
LEARN MORE