Vladimir Putin Starts His Own Ratings Firm
by and
Moody's, Fitch forced to stop national ratings under new rules

Kremlin had condemned barrage of downgrades as political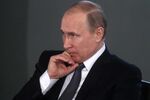 Vladimir Putin's homegrown credit-ratings firm is up and running and foreign competitors are already feeling the heat.
In the past three weeks, Moody's Investors Service Inc. and Fitch Ratings Ltd. have said they plan to stop issuing local ratings rather than agree to having their Moscow branches regulated by the Russian government at the cost of breaking international sanctions. As the New York-based firms scale back, the venture known as ACRA is poised to fill the void when it starts publishing opinions in the second half.
Russia is squeezing the business of foreign-ratings assessors since downgrades it condemned as politically motivated last year pushed the sovereign below investment grade for the first time in more than a decade. The finance ministry and central bank plan to use ACRA to replace the so-called big three as their yardstick to measure credit quality of investments.
"Cutting off international agencies from national ratings, the state is protecting the local provider," said Ivan Guminov, chief fund manager at Ronin Trust in Moscow. "Until this moment all important ratings were provided by big three and a new local player would have had a hard time to conquer a share on this market if it had to compete with them. "
Moody's Exits
Moody's last week announced it would shutter its joint venture in Moscow of 12 years, and today it withdrew Russia national scale ratings. Fitch said Feb. 29 it will probably stop issuing local ratings on Russian companies, the same day ACRA, which stands for Analytical Credit Rating Agency, applied for a license to operate in Russia. Standard & Poor's said it's in talks with the central bank about how to maintain a domestic presence under the new rules.
The Bank of Russia announced plans to start a company immune to "geopolitical risks" in July after S&P and Moody's cut Russia's rating to junk because of the economic impact of sanctions imposed over Ukraine. S&P affirmed its BB+ rating today with a negative outlook. On March 4, Moody's said it may downgrade Russia's Ba1 rating further because of the oil shock. The central bank will stop using S&P, Moody's and Fitch in its decision-making, according to Elena Chaikovskaya, head of financial markets development. ACRA is so far the only agency which asked for accreditation under new rules, she said on March 14.
Putin Allies
In the weeks that followed Putin's annexation of Crimea two years ago, oligarchs associated with the president faced U.S. penalties. That prompted foreign ratings firms to withdraw coverage on banks the businessmen controlled, leaving the finance ministry with no way to assess how safe its deposits were. The lenders, Bank Rossiya OAO and SMP Bank AO, were among the government's savings banks.
"It happened that we didn't have any idea of those banks' credit quality," Deputy Finance Minister Alexey Moiseev said in an interview last month, explaining why Russia needs an alternative to the big three firms. Credit assessments from international firms have long been used by private investors in Russia to manage risk and by the Bank of Russia to regulate the financial industry.
Other local investors will also see it as a positive, said Suki Mann, a former head of European credit strategy at UBS Group AG who now runs bond blog CreditMarketDaily.com.
"It can provide transparency and ultimately it will help investors with their own decision-making processes," said Mann, who considers ratings from local agencies in his analysis. "It shouldn't be relied on as a sole source of making an investment decision, but it can be a good thing to have in your armory."
Shareholders
ACRA's board is headed by an American, Karl Johansson, who advised the Russian government while at Ernst & Young LLP in Moscow. Ekaterina Trofimova, a former banking analyst for Russia and former Soviet states at S&P, will run the new venture. Twenty-seven shareholders, including Sberbank, Raiffeisenbank and Severstal PAO among others, will each have 3.7 percent of 3 billion rubles ($44 million) of the authorized capital.
ACRA won't have a political agenda and its 23 analysts have "very deep knowledge of Russian industries," Johansson said in an interview.
Investors outside of Moscow are more likely to see the venture as an attempt by Russia to hit back at Western adversaries, said London-based money manager Paul McNamara, who helps oversee about $4.5 billion of assets at GAM UK. He said he'll disregard the research.
"Any Russian agency would undoubtedly be regarded as being in the pocket of the Kremlin," McNamara said. The move is a "standard response to being downgraded. Nobody in the market cares."
Before it's here, it's on the Bloomberg Terminal.
LEARN MORE