Norway Cuts Rate and Signals More Easing Ahead Amid Oil Plunge
By
Norges Bank sees key rate bottoming at 0.2% in 1Q 2017

Norway says it will proceed with caution in rate setting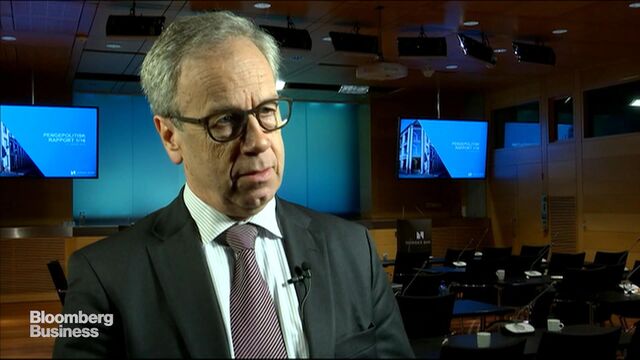 Norway's central bank cut its benchmark interest rate to a record low and signaled it's prepared to ease policy further to ward off a recession in western Europe's biggest crude oil producer.
The overnight deposit rate was lowered by 25 basis points to 0.50 percent, the Oslo-based central bank said on Thursday. The decision was predicted by 18 of 20 economists surveyed by Bloomberg. The bank predicted that its rate will bottom at 0.2 percent in the first quarter next year.
"The current outlook for the Norwegian economy suggests that the key policy rate may be reduced further in the course of the year," Governor Oeystein Olsen said in a statement. The bank also warned that it can't rule out a negative rate should the economy be exposed to "new major shocks."
Even so, the bank said lower rates "could increase financial system vulnerabilities" and that it's now "proceeding with greater caution in interest rate setting."

The krone rose 0.6 percent to 9.435 per euro as of 10:13 a.m.
Norges Bank has been cutting rates since December 2014 to avoid a recession in the oil-reliant economy. Record easing from the European Central Bank and in neighboring Sweden has added pressure on Norway to keep the krone weak. The currency has lost about 7 percent against the euro in the past year amid a 24 percent plunge in Brent crude over the same period.

The U.S. Federal Reserve on Wednesday held its benchmark rate target at 0.25 percent to 0.5 percent and lowered the path for future increases amid concern over global growth.
Norway's economy stalled in the second half of last year and oil companies operating in the nation are deepening planned investment cuts, threatening to kill jobs and raise unemployment.
While the oil sector is experiencing a significant slowdown, the mainland economy has been able to maintain growth. The government is tapping its $830 billion wealth fund for the first time this year as it lowers taxes and boosts spending. It has pledged an even more expansionary budget for 2017.
"There are indications of stagnation in the mainland economy at the moment," Kyrre Aamdal, a senior economist at DNB ASA in Oslo, said before Thursday's decision. "We expect the economy to grow, but at a moderate pace."