North Korea Fires Ballistic Missile in Defiance of Sanctions
by
Another missile may have exploded mid-air, South Korea says

UN has banned North Korea from ballistic missile tests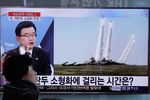 North Korea fired at least one ballistic missile Friday into waters off its east coast, demonstrating its resolve to keep developing nuclear-tipped missiles in defiance of tightening international sanctions.
The ballistic missile flew 800 kilometers (500 miles) from the isolated nation's west coast -- the furthest a projectile has been fired since a long-range rocket launch last month, South Korea's Joint Chiefs of Staff said in a text message. Another missile flew 17 kilometers, meaning it may have exploded in air, and there's even a chance the radar may have caught an illusion, the joint chiefs said.
Earlier this month, North Korea fired two ballistic missiles that flew 500 kilometers as its leader Kim Jong Un vowed to conduct another nuclear test. Friday's launch comes two days after the nation sentenced a U.S. student to 15 years hard labor for "hostile acts" against the country, and underscores his defiance against a United Nations Security Council resolution to punish his nation for a fourth nuclear test in January and a long-range rocket launch in February.
U.S., Japan Condemnation
"We call again on North Korea to refrain from actions that further raise tensions in the region and focus instead on taking concrete steps toward fulfilling its international commitments and obligations," U.S. Secretary of State John Kerry said in an e-mailed statement. "The United States remains steadfast in its commitments to the defense of its allies, including the Republic of Korea and Japan."
Japanese Prime Minister Shinzo Abe condemned the launch as "extremely problematic," saying his country made a protest to the government in Pyongyang.
North Korea maintains a wide arsenal of missiles, including Rodongs with a potential range of 1,300 kilometers that put Tokyo within their striking range. The launch on Friday comes in the midst of joint U.S.-South Korean military drills that North Korea calls a rehearsal for invasion. North Korea has threatened a nuclear attack if invaded during the exercises, which are set to end April 30.
North Korea's actions this year loom in the background as leaders from around the world prepare to gather later this month in Washington for a biannual nuclear security summit. The U.S. and South Korea have stepped up their own sanctions on top of the security council resolution targeting North Korea's banks, cargo ships and mineral exports -- a key source of hard currency for the Kim regime.
North Korea put a satellite in space early February with a rocket that flew more than 2,000 kilometers. The security council condemned the launch as a test of a ballistic missile banned under its resolutions. China, North Korea's only remaining major ally, has backed the resolution and pledged to implement the UN sanctions against the Pyongyang regime.
Before it's here, it's on the Bloomberg Terminal.
LEARN MORE