Rio Puts Faith in Copper Chief to Exit Commodities `Spin Cycle'
by , , and
Frenchman Jacques to replace Rio CEO Sam Walsh in July

Appointment signals strategic pivot for next growth phase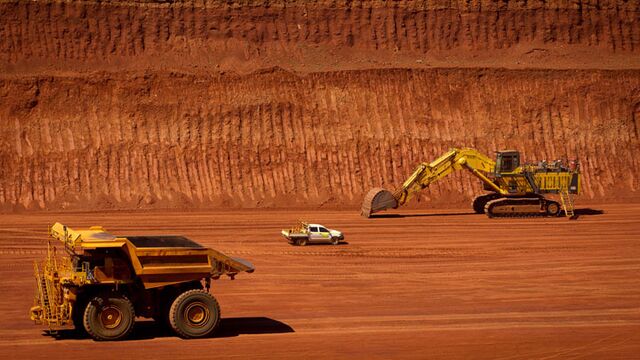 The deal that probably did more than any other to help secure 44-year-old Jean-Sebastien Jacques the top job at miner Rio Tinto Group was brokered with the assistance of his nine-year-old daughter.
With the company's $6 billion copper mine expansion in Mongolia bogged down in a political quagmire, Jacques invited prime minister-elect Chimediin Saikhanbileg to his west London home 18 months ago. Over dinner, Jacques's daughter asked the Mongolian for his autograph. The gesture broke the ice, helping pave the way for a financing accord that allowed the company to push ahead with the mine.
"My cheeky little monkey," Jacques said in a recent interview with Bloomberg as he recalled the encounter.
The Frenchman, who heads the copper and coal division, will succeed 66-year-old Australian Sam Walsh in July. The transition portends a pivot for the more than 140-year-old London-based miner from the $6 billion cost-cutting regime that's characterized Walsh's three-year reign to a copper-led growth phase as the world heads toward a shortfall of the metal later this decade.
Pragmatic, Personable
"He's a lot more open, honest, pragmatic and personable than the kind of CEO that we've got used to, who is a bit of a statesman and has a very set agenda," said Brenton Saunders, a Sydney-based analyst with BT Investment Management Ltd., which oversees about A$78 billion ($60 billion) of assets. "He's a lot more, almost off the cuff in the way he talks about things, and I suspect in the way he approaches things."
Requests to interview Jacques and Walsh were declined by a company spokesman.
Jacques takes on the role at a critical time for the company and the industry, which are confronting the dual headwinds of a slowing Chinese economy and a world awash in raw materials. Rio, which traces its roots to the reopening of ancient copper mines on Spain's Rio Tinto -- or red river -- in the 19th century, has outperformed peers BHP Billiton Ltd., Glencore Plc and Anglo American Plc under Walsh's tenure.
"The current reality for our industry is this: We are, no doubt, facing tough times. It feels a little like we are in a washing machine on spin cycle," Jacques told an audience at the Bloomberg Intelligence London Metal Exchange Week forum last October. "The industry compass is jammed and it is time for a reset. We, in fact, think that we will see a new metals age, with copper at the center."

After serving four years as head of strategy for India's Tata Steel Ltd., Jacques joined Rio in 2011. Previously, he spent more than 15 years working in various roles across Europe, Southeast Asia, India and the U.S. in the aluminum, bauxite and steel industries. He started his career with French cosmetics maker L'Oreal in Indonesia in 1994.
Jacques, who speaks French, English, Spanish and a basic level of Bahasa, Indonesia's main language, has a Master of Science degree from Ecole Centrale Paris. He's been living in London with his family for 14 years.
"Whilst this is clearly an appointment that heralds a new era for Rio, shareholders will no doubt hope Mr. Jacques continues with the laser-like focus on cost cutting, the rigid capital allocation process and conservatism on M&A," Barclays's analysts David Butler and Amos Fletcher said in a note to clients on Thursday. "We suspect that will be the case."
Jacques, who will have an annual salary of 1.08 million pounds ($1.5 million), has "proven to be a standout performer as a leader in our business," Walsh said in a statement. Jacques, known as 'JS,' saw off competition from executives including Andrew Harding, who runs the iron ore division, and Alan Davies, the chief of Rio's diamonds and minerals unit.
Red Metal
Rio's growth over the past decade has been largely driven by the unprecedented expansion of its sprawling iron-ore operations in Western Australia that make it the world's second-largest exporter. With the price of the steel-making ingredient seen languishing for the remainder of the decade owing to a global glut, the appointment heralds a shift in focus to copper at Rio.
"Copper will be strategically important for the company and JS is the guy to drive it," Philip Kirchlechner, a former Rio executive who headed its iron ore office in Shanghai in the 90s.
Rio is the world's seventh-largest copper producer, and Jacques has tipped the metal to rebound before other materials. He's said that now is the time to invest in copper projects as rivals retreat. To that end, Jacques played a key role in moving forward North America's largest copper project, the $6 billion Resolution mine in Arizona, which Rio says will one day provide more than a quarter of U.S. copper needs.
Sanford C. Bernstein analyst Paul Gait said Jacques's appointment may also signal a return to M&A for Rio, which has been licking its wounds since a disastrous $38 billion takeover of Canadian aluminum producer Alcan Inc. in 2007 and a similarly unsuccessful A$3.9 billion coal deal in Mozambique in 2011. Jacques has previously blamed the unreasonable expectations of sellers for thwarting his M&A ambitions.
New Age
Underlying earnings from Rio's copper and coal division slumped 67 percent last year to $274 million, a fraction of the $4 billion from its iron ore unit. While copper was battered last year after growth in China slowed and miners expanded output, some analysts predict shortages toward the end of the decade.
"It is tempting to batten down the hatches and ride out the storm," Jacques said at an industry conference in Chile 11 months ago. "I firmly believe this would be the wrong thing for our industry to do. Now is the time to keep investing, keep innovating, and keep creating value at all points of the cycle. Patience, boldness and persistence will pay dividends."
Before it's here, it's on the Bloomberg Terminal.
LEARN MORE